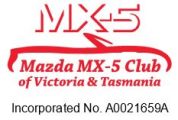 NOTICE OF ANNUAL GENERAL MEETING
NOTICE IS HEREBY GIVEN that the 32nd Annual General Meeting of the Mazda MX-5 Club of Victoria & Tasmania Incorporated will be held on Wednesday 10th August 2022 at 6:30pm via Zoom Video Conferencing
This is your chance to have your say about the future direction of your Club, or even to join the Committee and make a difference first-hand.
At the meeting, members will have the opportunity to:
find out about the Club's operations and finances

ask questions about the operations and finances of the Club

speak about any items on the agenda

vote on any resolutions proposed

elect committee members
If you would like to directly contribute to the running of your Club, simply complete and submit a Form of Nomination for Election by 5:00pm Wednesday 10th August 2022.
If you are attending, please fill in the Attendee Registration Form below. Zoom video details will be sent to you after registration.
If you can't make it, please consider sending in a Proxy Vote so you can still have your say. Proxy Votes must be submitted
by 6:30pm Monday 8th August 2022.
Bruce Gray
Secretary
Mazda MX-5 Club of Victoria & Tasmania Inc.
PO Box 8173, Croydon,  VIC  3136  Australia
E: 
Click on below items to display