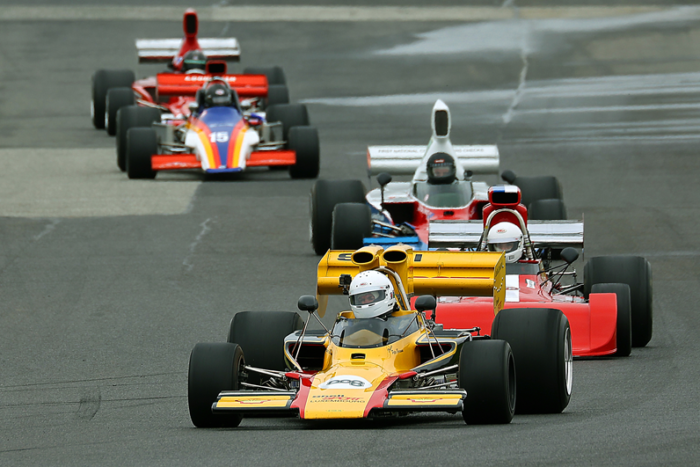 Historic Sandown VHRR Saturday November 5th Club Display (3100)
40
40 people viewed this event.
THE EXCITEMENT RETURNS – HISTORIC SANDOWN 2022 – November 4-6
The Location is Sandown Racecourse,  591-659 Princes Hwy, Springvale VIC 3171
Run by Victorian Historic Racing Register – VHRR
Admission for the Driver is $20:00 and for the Passenger is $20:00 for both days. If you pay on Saturday, you will get free entry on Sunday.   The normal charges are $40:00 for Saturday and $50:00 for Sunday.
Payment is to be made at the gate upon presentation of the "Tickets for the Display" – most likely a  small Windscreen Sticker.
Confirmation of your acceptance will be done on 2/11/2022 and we will advise a meet point close by so we can go in as a group.
There is also the opportunity to do two parade Laps of the circuit in the Shannon's Parade.
For children of the 50's 60's and 70's who like motorsport this looks to be a great day.  Formula 5000's, 60 years of MGB's and an E type Jaguar display on the Sunday.
The gates will be flung open to welcome back competitors and spectators to the 30th Historic Sandown, and we anticipate a joyous reunion of around 400 cars all taking to the track in celebration. Sandown has a long and exciting history as the home of the Tasman series, and is synonymous with the likes of Costanzo, Hamilton, Bartlett, and Davison.  Once again, the thundering 5000's will take to the track, along with a cross section of racing, sports and touring cars from the 1920s through to the '90s. Enthusiasts are sure to be delighted!
While you're at Sandown 2022 join in the festivities with the everpopular MGB set to celebrate 60 years and pack display areas on both Saturday and Sunday. Arguably one of the most recognised sports cars ever made, this small and affordable convertible, captured the public's imagination from its launch in 1962 and quickly became the biggest selling sports car of its time. They will also be joined by Ford's Capri GT V6's and Fiat's X1/9's proudly continuing their 50 years commemorations.
On Sunday the exciting E-type Jaguars will be flaunting their sleek lines for young and old to drool over. The E- type's combination of beauty, high performance, and competitive pricing established the model as an icon of the motoring world at the time and sixty years later it continues to delight admirers around the world. The New York City Museum of Modern Art recognised the significance of Willian Heynes' design by adding a blue roadster to its permanent design collection, one of only six automobiles to receive this prestige.  Let's not forget its performance on the track either, with Bob Jane winning the 1963 Australian GT Championship at the wheel of a '"lightweight" E-type.
As usual hundreds of cars will return to Red Hill where enthusiasts lovingly display their toys and follow the excitement from unique vantage points, so make time to wander over and be impressed. Why not join them?
Everything is conveniently located at Sandown Park, and there's free access to the pits and the grandstand where excellent viewing of the trackside action can also be enjoyed. A fine array of trade stands are added features, so come and grab a bargain or a piece of motoring history as well as a beverage and bite to eat from a range of food outlets.
Unofficial practice will take place on Friday, November 4 and it's free admission to the public for a taste of the action.
Additional Details
Event Type - Non Driving Event