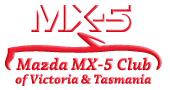 Club Motorsport Events COVID-19
Hi Motorsport people,
Further to the communication to all club members regarding the suspension of club activities, including motorsport, I wanted to provide you some information specific to us.
Motorsport activities in the club continue to be subject to the current Victorian/Tasmanian Government COVID-19 community health regulations and advice. Events run under a Motorsport Australia permit are to comply with the provisions of that permit and the Return to Race guidelines, which include specific requirements for maintaining physical distancing and good hygiene practices. Similarly, events run under a AASA permit are to comply with the provisions of that body. Any requirements stipulated by the hosting circuit must also be complied with.
Anyone who is obliged to self-isolate as required by the guidelines from the Victorian Government should not attend a motorsport event, nor should anyone exhibiting COVID-19 type symptoms.
Paul Ledwith

Club Captain – Motorsport
Mazda MX-5 Club of Victoria & Tasmania Inc.