Welcome to the Club's buy, swap and sell section.
To advertise, please e-mail our Editor. Send a short description of what you're offering (or want), as well as a photo or two, asking price and your contact details. It's free, and open to Club members and non-members.
Advertisements will remain in place for one month. If you buy, swap or sell your item in the meantime, please let us know so we can remove your listing from the site.
Please note: notices in this section are presented as a service to members only. The Mazda MX-5 Club of Victoria & Tasmania Inc. has not tested the products, equipment or services listed and makes no warranties or representations about any of the products or their purported uses.
---
Wanted
My first MX-5 …
My name is Dante. I am a young car enthusiast looking to purchase my first MX-5.
I thought one of your Club members may be looking to sell their car.
I am interested in NB or later models (preferably series 2 NB or later) with less than 200,000km.
I am located in Melbourne, but am willing to travel to regional Victoria for the right car.
I have up to $8,000 to spend.
Contact: Dante – 0412 972 670
---
For Sale
2000 NB8A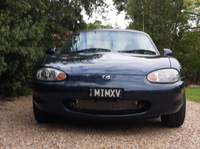 177,000km
service books
X Force muffler
strut brace
style bar
grille
rego till Feb 2021
RWC supplied
plates: MIMXV
Asking price: $7,300.00 (with plates); $6,800 (w/o plates)
Contact: Gary (member) – 0412 916 757 |
---
2010  NC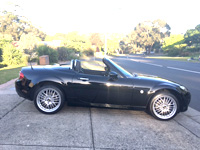 six-speed manual
black interior
64,745km
reg: VCMX5
expiry May 2020
18" BBS wheels
Recaro leather seats
Bose sound system
reverse sensors
always garaged
Asking price: $22,900.00 (neg)
Contact: Alice (non-member, Greensborough) – 0408 817 865 |
---
2008 Coupe NC Manual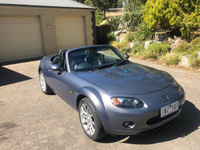 hardtop
six-speed manual
86,000km
all service records
RON98 only
price is firm, including RWC
Asking price: $15,499.00
Contact: David (Brunswick) – 0408 477 841
---
NA steering wheel/springs
Nardi leather steering wheel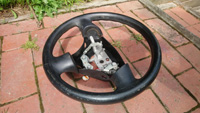 used condition
has some wear
no airbag
can ship at buyer's expense
Asking price: $95.00
Factory standard NA Springs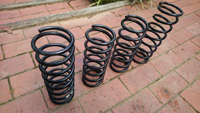 used condition
OEM
can ship at buyer's expense
Asking price: $100.00
---
1991 Classic Red NA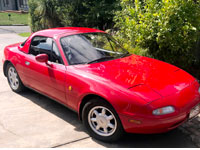 reluctant sale
151,000km
totally original down to the tonneau, soft top, hard top (just resprayed) and original radio (not fitted)
Club car since 2011
meticulously maintained by Dick Richey (MX5 Factory) over that time
any suspect/old parts replaced
never raced and fastidiously driven
hard to find an equivalent standard car.
Offers over $15,000 considered
Contact: Frank – 0418 140 176
---
Rego plates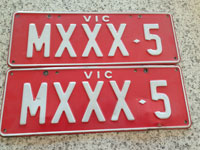 Asking price: $1,500.00 ONO
Contact: Ken – 0418 553 116
---
NC parts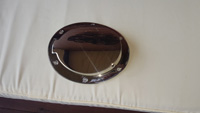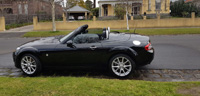 Chrome filler cap: $80.00
OEM twin pipe muffler: offers please
Contact: Greg – 0401 628 864
---
2005 NC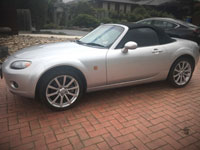 2005 NC
5-speed manual
Sunlight Silver
black cloth interior
77,150 km
one owner
RWC
reg: UGH250
registered until June 2020
tyres changed at 60,000km
well maintained, serviced
Asking price: $18,000.00
Contact: Doreen (non-Club member), Sunbury – 0449 256 528  | 
---
UHF radios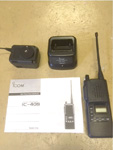 ICOM hand-held UHF radios
two units for sale
quite OK for reasonable line-of -sight
very useful on Club runs
Asking price: $50.00 each
Contact: John (Club member) – 0418 502 641
---