Welcome to the Club's buy, swap and sell section.
To advertise, please e-mail our Editor. Send a short description of what you're offering (or want), as well as a photo or two, asking price and your contact details. It's free, and open to Club members and non-members.
Advertisements will remain in place for one month. If you buy, swap or sell your item in the meantime, please let us know so we can remove your listing from the site.
Please note: notices in this section are presented as a service to members only. The Mazda MX-5 Club of Victoria & Tasmania Inc. has not tested the products, equipment or services listed and makes no warranties or representations about any of the products or their purported uses.
---
Wanted
Original NA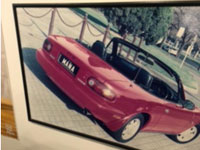 19-year owner of original NA now regrets his sale and is looking for a replacement
must be Australian-delivered and in original condition (no mods)
willing to pay fair price.
Contact: Anthony – 0412 855 447
---
For Sale
Personalised plates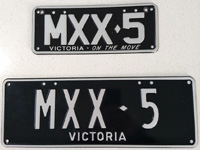 pair of Victorian vehicle registration number plates in superb condition
removed from a Mazda MX-5 after only 36,500 km of on-road use
the registration number "MXX-5" is on-hold at VicRoads, pending sale and transfer from my name to the buyer's
size: large (rear) plate is the size of a standard Victorian number plate: 371mm x 132mm; small (front) plate is a custom 4-digit Victorian number plate: 250mm x 99mm
for further detail and more photos, you can search for my listing on EBAY.
Asking price:
$2,000.00
Contact: Peter – 0403 365 583  |

---
ND coilovers & spacers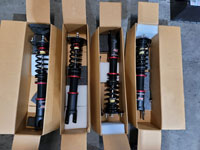 almost-new MCA Red coilovers for an MX-5 ND plus a set of 15mm wheel spacers
coilovers cost $3,050 new – have travelled less than 400km and one track day
wheel spacers cost $100
Asking price:
– coilovers: $2,000.00
– wheel spacers: 45.00
---
1993 NA wheels
original wheels from a 1993 Australian-delivered NA
tyre have tread but too old to be used on road
Asking price: $200.00 set (will not split)
Contact: Alistair (former Club Vice-President) – 0419 627 830
---
Personalised plates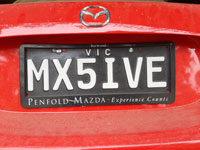 Asking price: $1,500.00
Contact: David – 0408 288 540
---