Welcome to the Club's buy, swap and sell section.
To advertise, please e-mail our Editor. Send a short description of what you're offering (or want), as well as a photo or two, asking price and your contact details. It's free, and open to Club members and non-members.
Advertisements will remain in place for one month. If you buy, swap or sell your item in the meantime, please let us know so we can remove your listing from the site.
Please note: notices in this section are presented as a service to members only. The Mazda MX-5 Club of Victoria & Tasmania Inc. has not tested the products, equipment or services listed and makes no warranties or representations about any of the products or their purported uses.
---
For Sale
2004 NB SE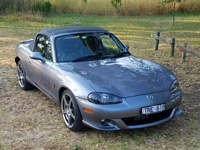 2004 NB SE (Factory turbo)
one owner original vehicle
excellent condition
reg until Aug/21
new tyres, battery, timing belt service done
includes significant extras
Asking price: $16.000.00
Contact: Graham (Club member) – 0427 359 165
---
Racing wheels & tyres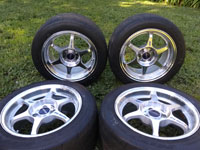 Buddy Club P1 Racing SF wheels and Nitto R Spec tyres
Suitable for NA or NB MX-5
will consider selling wheels or tyres separately
Wheels:
15 x 8, +32 offset, 4 x 100, polished alloy with clear coat
excellent condition with no wear or damage or road grime
Tyres:
Nitto NT01 225/45/15
about 50% wear – plenty of heat cycles left in these
Asking price: offers around $1,350.00
Contact: Steve (Club member)
– 0457 290 825
---