Welcome to the Club's buy, swap and sell section.
To advertise, please e-mail our Editor. Send a short description of what you're offering (or want), as well as a photo or two, asking price and your contact details. It's free, and open to Club members and non-members.
Advertisements will remain in place for one month. If you buy, swap or sell your item in the meantime, please let us know so we can remove your listing from the site.
Please note: notices in this section are presented as a service to members only. The Mazda MX-5 Club of Victoria & Tasmania Inc. has not tested the products, equipment or services listed and makes no warranties or representations about any of the products or their purported uses.
---
Wanted
NC boot rubber seal
rubber seal for the boot of a 2006 NC
Contact: Robert (Club member)
– 0409 301 855
---
NC boot liner
rubber boot liner for NC (2005)
Contact: Peter (Hurstbridge)
– 0402 111 227
---
MX-5 hard top
manual
2007 onwards
less than $24,000.00
not black
Contact: John (Ringwood East)
– (03) 9729 5959
---
For Sale
NB radio unit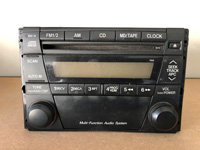 original radio from 2001 NB second generation
foe dale due to more modern replacement
still works well
Asking price:  $125.00 ONO

Contact: Anand (Club member)
– 0466 895 508
---
2003 Crystal Blue NB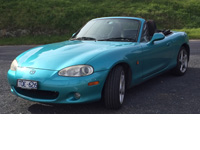 refurbished soft top
refurbished seats
original marine green colour
195,000 km
RWC
great for fun driving
Asking price:  $10,500.00

Contact: Sara, Southbank
– 0418 365 845
---
Crystal Blue NB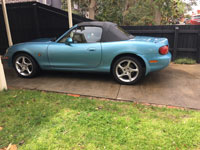 owned for 7 years
only selling due to the purchase of newer model MX-5
excellent condition
never been in an accident
mechanically excellent and runs without issues
always parked under cover
maintained and carefully driven by a mature owner
car is all original except for leather seats and an after-market radio (I have the original
radio)
oil, oil filter and new battery recently fitted
tyres have approx 6,000km
Asking price:  Not provided

Contact: Peter (non-Club member)
– 0412 823 814
---
NA with hard top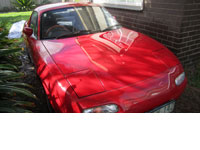 very good condition
46,000 on the clock
one owner
all original parts
removable hard top
soft top in very good condition
registered to mid-December 2019
[year of manufacture not provided]
Asking price:  $15,000/00

Contact: Eric (non-Club member)
– 0403 898 623
---
NB wheels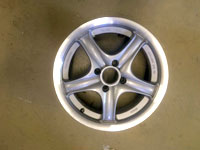 15" x 6.5" Performance alloy wheels with nuts and centre rings
Asking price:  $200.00 set of four

Contact: John (Club member)
– 0418 502 641
---
NB car bra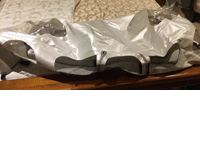 silver
new (we don't think it's ever been used … we inherited it with the purchase of our SP but have never used it)
Asking price:  $100.00
Contact: Enzo (Club member)
– 0419 546 969
---
2001 NB

soft-top
Brilliant Black
one owner
just under 98,000km
registered until Nov 19
The car has been regularly serviced and well looked after. The soft-top was replaced 12 months ago and radiator has also just been replaced.
Asking price:  $16,000.00 negotiable

Contact: Karen – 0407 676 677
---
Dunlop tyres

4 x Dunlop 205/50R16 DZ SPORT Z2
near-new condition, very little track time
cost new over $800
Asking price:  $500.00

Contact: Kate (near Beaconsfield) – 0418 386 181
---
NB8B lowering springs

Eibach Pro-kit lowering springs for NB8B (possibly others)
Nr 5530-140
25mm lower
new in box
Asking price:  $350.00

Contact: Geoff (former Club member) –
---
NB8B soft top

dark blue
near-perfect condition with frame, wiring, rear glass and demister, rain rail and ALL brackets and fasteners
removed from the car that a well-known and regarded member wrote off a few years back .
Asking price:  $650.00

Contact: Geoff (former Club member) –
---
1999 NB

Australian delivered
lady owner past 19 years
very good condition all round
145,000 km
Asking price:  not provided

Contact: GS Moran (Heathcote) –
---
1999 NB manual

regrettable sale, due to ill health
this great little sports car grips well on the road, especially around bends. Perfect for a Sunday drive with the roof down. For a 20-year-old car, the body is in very good condition, with a small amount of wear and tear on the paintwork. The centre console is missing a hinge, but opens well and it hasn't been an issue
recently serviced (May 2019)
just under 165,000km
overall a great little sports car!
RWC
serious buyers only – no time wasters
Asking price:  $8,000.00

Contact: Anne-Marie (non-Club member), Croydon – 0419 513 457
---