Welcome to the Club's buy, swap and sell section.
To advertise, please e-mail our Editor. Send a short description of what you're offering (or want), as well as a photo or two, asking price and your contact details. It's free, and open to Club members and non-members.
Advertisements will remain in place for one month. If you buy, swap or sell your item in the meantime, please let us know so we can remove your listing from the site.
Please note: notices in this section are presented as a service to members only. The Mazda MX-5 Club of Victoria & Tasmania Inc. has not tested the products, equipment or services listed and makes no warranties or representations about any of the products or their purported uses.
---
Free
NC gearbox oil
I have just replaced the gear box oil in my NC with Castrol Syntrans 75-85 and have almost a litre left over … happy to pass it on to any members who might be doing same
no charge, no fee … free to a good home
comes complete with gold plastic bottle and it's very fresh
Asking price: free to a good gearbox
Contact: Greg – 0401 628 864
---
For Sale
Bootrack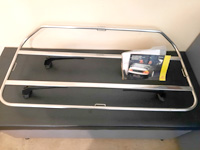 Italian-made Pana boot luggage rack
perfect condition
originally bought through MX-Mania
no payment sought – "buyer" is asked to make a donation to the Salvos
Asking price: $50 donation to Salvos
Contact: Graham, Roxborugh Park
– 0419 508 852
---
Personalised plates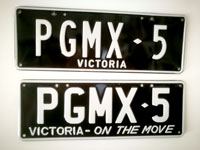 if your initials are PG, you're in luck!
either style is available
Asking price: $1,200.00
Contact: Phil (former Club member)
–
---
Shocks & springs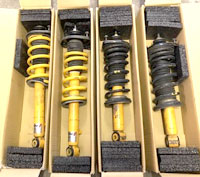 complete set of four off King Springs and adjustable Koni shock absorbers (with adjuster) to suit NB8B
used by myself in NB Clubman class and this set up was on the pace
priced to sell
Asking price: $400.00
(the lot – will not separate)
Contact: Noel (Club member)
– 0421 158 889  | 
---
1989 Classic Red NA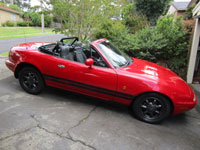 top condition.
239,000km on clock
on club permit plates.
timing belt and water pump recently replaced.
Asking price: $10,000.00 ONO
Contact: Neville (Club member)
– 0408 382 938
---
1989 Classic Red NA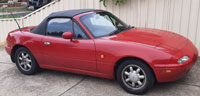 267,360km
manual transmission, petrol, 115hp 86 Kw
A/C & heater working condition.
2 brand new front tyres
new gear link bushes and gear link boots (recommended to change the seat belt in the future)
new paint (except the bumpers)
new durable quality soft top (weatherproof – sun and rain)
rare & soft black tonneau (rrp $620!)
seats are very comfortable (but showing some external "tiredness!)
some rust inside some areas (it's an '89!!)
no RWC
always serviced on time
only 2 owners
still driving it like a gem
located near Westfield shopping centre, Airport West
Asking price: $12,500.00
Contact: Dominique (non-Club member)
– 0400 947 994 (SMS only) [I will call back]
---