Welcome to the Club's buy, swap and sell section.
To advertise, please e-mail our Editor. Send a short description of what you're offering (or want), as well as a photo or two, asking price and your contact details. It's free, and open to Club members and non-members.
Advertisements will remain in place for one month. If you buy, swap or sell your item in the meantime, please let us know so we can remove your listing from the site.
Please note: notices in this section are presented as a service to members only. The Mazda MX-5 Club of Victoria & Tasmania Inc. has not tested the products, equipment or services listed and makes no warranties or representations about any of the products or their purported uses.
---
Wanted
NB hardtop
hardtop for 1999 NB
prefer black with a demister
willing to pay top price for the right one
willing to travel around Tasmania, Victoria and possibly NSW and/or SA
Contact: Lachlan (Club member, Northern Tasmania) – 0447 559 901
---
1991 NA door mirror
passenger side door mirror from 1991 NA
any colour … but if you have a Sunburst Yellow one I'd be a very happy chappy!
Contact: Mark (non-Club member, Foster North) – 0414 600 236
---
MX-5 NA
Preferences:
Late model NA (1.8L)
if a 1.6L, then not the 90HP version
if an early (1990-1991) NA, then no short-nose crankshaft
low mileage (less than 180,000km)
colour: Black, Neo Green (BRG) or White
Happy to pay a good price for a good car!
Contact: Christian (Club member) – christian@karcher.cc
---
NB8B exhaust
2001 exhaust manifold and shroud
(Australia-wide)
Contact: Dale (Club member), Tasmania – demes1@bigpond.net.au
---
For Sale
1989 Eunos Roadster NA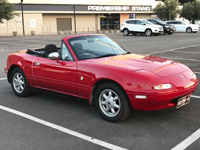 soft top with glass rear window
173,000 kms
aircon/heating
speakers in seats
original – not modified, never raced
new battery
new clutch
timing belt done
Club plates, not transferrable
very good condition; drives extremely well.
Asking price:  $8,900.00 ONO
Contact: Sue (former Club member), Geelong – 0499 799 480
---
1989 NA6
very early, original VIC-delivered car
pampered weekend car
excellent unmodified condition
just ticked over 180,000km
Club permit-registered
chunky folder of history
Asking price:  $10,000.00
Contact: Julian (Club member), Melbourne – 0411 320 607
---
NC sunshade

windscreen sunshade/visor
fits 2008 model
as new – excellent condition
Asking price:  free to a good home!
Contact: Jondy (non-Club member) – 0419 531 235
---
1999 10AE soft top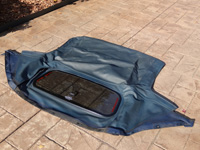 original roof from 1999 10th anniversary Innocent Blue NB
reasonable condition
tinted rear window, with demister
Asking price:  $150.00 ONO
Contact: Rob (Club member), Croydon – 0407 231 117
---
1989 Classic Red NA
top condition
only 100,700km
five-speed manual soft top
as-new tyres
spoiler and roll bar
modified wheels, tail lights, engine cover etc
currently on Club plates (which cannot be transferred)
Asking price:  $10,000.00 ONO
Contact: James (non-Club member), Mornington – 0418 903 767
---
2011 True Red NC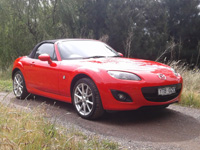 152,000km
six-speed manual soft top
one lady owner since new
easy country commuting use
excellent condition
full service history
reverse parking assistance fitted
Asking price:  $18,800.00
Contact: Loris (non-Club member) – 0411 190 491
---
2000 NB8A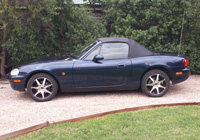 177,000km
X Force muffler
strut brace
style bar
service books
Asking price:  $6,800.00 without plates
Contact: Gary (Club member) – 0412 916 757  |  oders@ihug.com.au
---
2004 Titanium NB SE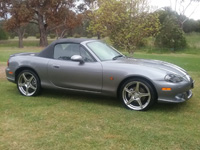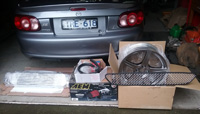 82,000km
totally original
excellent condition
extras included – all-new in box
Asking price:  $20,000.00 firm
Contact: Graham (Club member) – 0427 359 165 | graham_keene@bigpond.com
---