Welcome to the Club's buy, swap and sell section.
To advertise, please e-mail our Editor. Send a short description of what you're offering (or want), as well as a photo or two, asking price and your contact details. It's free, and open to Club members and non-members.
Advertisements will remain in place for one month. If you buy, swap or sell your item in the meantime, please let us know so we can remove your listing from the site.
Please note: notices in this section are presented as a service to members only. The Mazda MX-5 Club of Victoria & Tasmania Inc. has not tested the products, equipment or services listed and makes no warranties or representations about any of the products or their purported uses.
---
Wanted
NA6 OEM radio cassette

NA6 (1989-1993) OEM radio cassette (Panasonic)
Bringing my NA6 dash back to stock so looking for an original NA6 radio cassette branded as Panasonic as per photo
Contact: Chris (non-Club member) – 0419 226 499
---
NB SE sway bars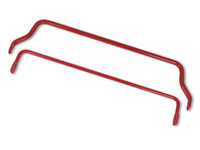 OEM sway bars from the 2004-05 MX-5 NB SE
stock end links and brackets required, please
these are the red ones, 23mm front and 14mm back
Contact: Maurice (non-Club member) – 0422 160 871
---
BBS wheel centre cap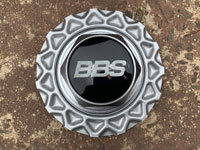 single BBS centre cap for the 14-inch "wire" wheels on the 1993 Limited Edition NA
Contact: Phil – 0402 812 428
---
Tan seat for 1997 NA
tan leather seat skin, or seat, to match 96-97 BRG (driver's side)
will consider partial donor skins to repair existing, of either side
whole seats also considered.
Also interested in rocking-horse poo, hen's teeth, and have a hankering for striped paint and a box full of left-handed hammers.
(Really need that seat skin though.)
Contact: Aaron (Warrnambool) – azza68@gmail.com (preferred)  |  0423 218 524
---
For Sale
1989 NA Eunos

much-loved 1989 Eunos
selling only as moving overseas
air conditioning
soft top in great condition (better NB hood with demister)
tyres all 80%
power steering
loads of work recently (within last 10 months) done: coolant replaced, rear discs and pads replaced, new thermostat and thermoswitch, brake fluid replaced, power steering fluid replaced, transmission fluid replaced (with correct AP-4 full synthetic), oil and filter replaced, new air filter, new differential fluid, new spark plugs, new ignition leads, new clutch slave cylinder
Asking price:  $11,000.00

Contact:
Max (non-Club member), Keysborough – 0431 090 413  |  maxhaigh94@gmail.com
---
1989 NA soft top

1989 Classic Red NA
good for parts, or for enthusiast restoration
currently unregistered
approx. 240,000km
Asking price:  $2,000.00 – $3,000.00 negotiable

Contact:
Peter (non-Club member), Bendigo – 0476 101 333  |  plw2277@gmail.com
---
ND wheels

set of four OEM 17″ alloy wheels
removed from 2019 ND Roadster GT at dealer vehicle delivery
brand new and never used on road
Asking price:  800.00 ONO

Contact:
Ed (non-Club member) – 0408 554 059  |  ebstarman@gmail.com
---
2010 NC Roadster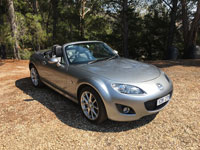 only 63,500km
RWC included
excellent condition
serviced regularly
new tyres fitted 6500 km ago
mostly country miles & mature female driver
leather seats, steering wheel and gear knob
Bluetooth
cruise control
premium Bose Sound system
air conditioning
ABS brakes
lots of cup holders :-)
registered until December 2019
Asking price:  21,500.00

Contact: Wendy (non-Club member) – 0409 704 762 |  wendy.blake57@gmail.com
---
1989 Eunos Roadster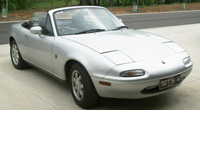 < 200,000km
September 1989 build (verification letter available)
five-speed manual
completely refurbished in 2011 by Ballarat Mazda
recently serviced – all fluids replaced and new cam belt fitted
all original, but anti-roll bars and concealed daytime driving lights fitted
runs extremely well – no fluid loss
current owner has always garaged it
leather steering wheel, aircon and electric windows
vehicle is on non-transferrable Club plates
Asking price:  $10,650.00 with RWC, $10,500.00 without

Contact: John (Club member) – 0421 112 619
---
2004 NB SE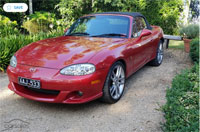 NB Series 4
185,600km
six-speed manual
well maintained
great condition
roof will need to be replaced in future (around back window)
must sell – owner moving to north Queensland
full details on carsales.com.au
Asking price:  $12,990.00 Negotiable

Contact: Jamie (non-Club member) – 0401 234 556
---
2007 NC coupe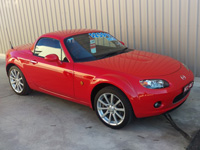 True Red
folding hard top
35,000km
six-speed manual
tan leather interior
Mazda hands-free kit fitted
Asking price:  $19,500.00

Contact: Bob – 0418 509 590
---
NA front brake pads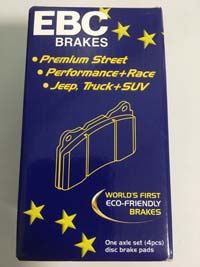 EBC Yellow Stuff front brake pads
suit early NA swith small brake discs
suit road and competition use
Asking price:
$100.00 (paid $140.00)

Contact: David (Club member, Wantirna South) – 0419 134 733
---
ND floor mats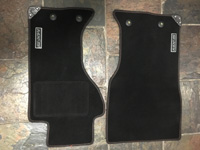 carpet in as-new condition
includes heal pad and red stitching
MX-5 badges have some scuffing (one badge is cracked)
Asking price:  $40.00

Contact: David (Club member, Wantirna South) – 0419 134 733
---
2009 NC hardtop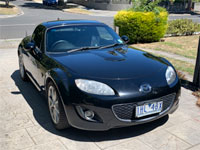 Mazda MX-5 NC Series 2 (December 2009)
automatic transmission
folding electric hardtop
Progress Springs / Koni shocks
full Super Q exhaust system (headers, mid-pipe, and muffler)
AEM cold air intake
alloy coolant expansion tank
Piano Black dash and roll bar hoop trim (original silver trim also available)
Pioneer head unit (Apple CarPlay and Android Auto support) – original Bose head unit available)
CarbonMiata quilted floor mats and boot liner
140,000km
black with black leather interior (custom black sheepskin covers included)
reg. no.: 1HL-4BX
registered to 21 January 2020 (Victoria)
VIN/chassis number: JMONC30F2A0201912
Asking price:  $15,500.00

Contact: Rob (Club member), Wantirna South – 0439 911 641  |  robcrutchley@netspace.net.au
---
2004 Silver NB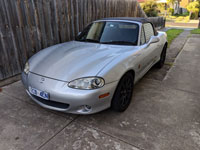 134,000km
current RWC
heavy duty clutch
RDA discs
larger alloy radiator
Speedy 15-inch rims with 205 Yokohama AD08R tyres (75%)
original 16-inch rims also available
upgraded stereo – Sony DVD player with touch screen
gearbox synchro's intermittently grind in third gear, driver side mirror needs touch up (recently replaced) & passenger side electric window needs fixing.
rooftop still in really good condition and interior excellent.
Asking price:  $7,500.00 – reduced for quick sale and to reflect gearbox will need some work
Contact: Ibrahim – 0423 447 542 or ally.ibs@gmail.com
---