Welcome to the Club's buy, swap and sell section.
To advertise, please e-mail our Editor. Send a short description of what you're offering (or want), as well as a photo or two, asking price and your contact details. It's free, and open to Club members and non-members.
Advertisements will remain in place for one month. If you buy, swap or sell your item in the meantime, please let us know so we can remove your listing from the site.
Please note: notices in this section are presented as a service to members only. The Mazda MX-5 Club of Victoria & Tasmania Inc. has not tested the products, equipment or services listed and makes no warranties or representations about any of the products or their purported uses.
---
Wanted
BBS wheel centre cap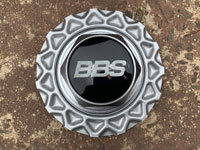 single BBS centre cap for the 14-inch "wire" wheels on the 1993 Limited Edition NA
Contact: Phil – 0402 812 428
---
Tan seat for 1997 NA
tan leather seat skin, or seat, to match 96-97 BRG (driver's side)
will consider partial donor skins to repair existing, of either side
whole seats also considered.
Also interested in rocking-horse poo, hen's teeth, and have a hankering for striped paint and a box full of left-handed hammers.
(Really need that seat skin though.)
Contact: Aaron (Warrnambool) – azza68@gmail.com (preferred)  |  0423 218 524
---
For Sale
NA for sale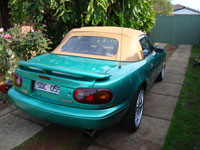 no details provided
runs well
regularly maintained
rear window replaced recently
Asking price:  Not specified – vendor prepared to accept a fair price

Contact: Robert, Sunshine – 0412 751 994
---
2004 Silver NB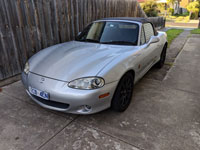 134,000km
current RWC
heavy duty clutch
RDA discs
larger alloy radiator
Speedy 15-inch rims with 205 Yokohama AD08R tyres (75%)
original 16-inch rims also available
upgraded stereo – Sony DVD player with touch screen
gearbox synchro's intermittently grind in third gear, driver side mirror needs touch up (recently replaced) & passenger side electric window needs fixing.
rooftop still in really good condition and interior excellent.
Asking price:  $7,500.00 – reduced for quick sale and to reflect gearbox will need some work
Contact: Ibrahim – 0423 447 542 or ally.ibs@gmail.com
---
MX-5 rego plates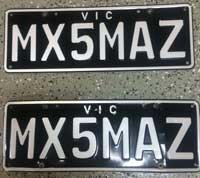 "MX5MAZ" number plate – the ultimate accessory for your MX-5
Asking price:  $2,000.00
Contact: Paul (Club member), Beaumaris – 0409 400 669
---
NB8B Coilovers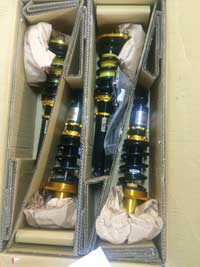 Yellowspeed Racing Dynamic Pro Sport Coilovers
suit NB8B (2000-2002)
brand new – still in box
purchased car with them already fitted so not needed
current price from MX5 Mania: $1,250.00
Asking price:  $950.00
Contact: Paul (Club member), Beaumaris – 0409 400 669
---
NC bootlid with full-size spare wheel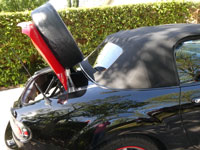 NC bootlid – modified and fitted with a new unused Speedie alloy wheel and a new unused (2015) Hifly tyre (Chinese brand but it's a lot better than a can of goo or a space saver)
secured with two bolts through a Land Rover mounting plate
standard full size for an NC; tyre size 205/45 R 17
supplied with a fitted vinyl cover
developed for a road trip in 2015 – now surplus to needs
as the photo shows, when open the lid is perfectly balanced on the existing struts
Offer also includes a Michelin Preceda 2 (2009) with 50% tread (tyre only):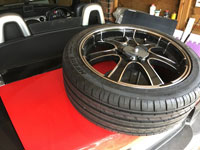 Asking price:  $650.00 (less than the cost of the components used)
Contact: Martin (non-Club member) – 0412 787 556  |  knoche@bigpond.com
---
2011 Special Edition NC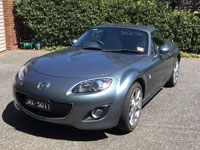 Model 2011 Mazda MX-5 Special Edition Coupe NC Series MY09
folding electric hardtop
one owner, brand new "showroom" condition
garaged all its life
10,900km
colour: Dolphin Grey
interior: grey leather
reg. no.: MX-5011
Victorian registration: 11 months (October 2019)
full service log from Penfold Mazda
Asking price:  $24,000.00
Contact: Ross (non-Club member), Camberwell – 0413 481 195  |  sellenger@tpg.com.au
---
MX-5 Club jacket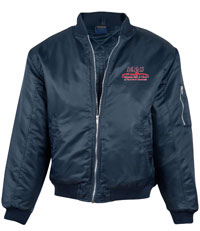 FJ02 Men's Flying Jacket with Mazda MX-5 Club of Victoria &
Tasmania logo (red embroidery)
colour: navy
size: XL
fabric: nylon, polyester
description: Nylon showerproof outer soft shell, quilt lined. Ribbed waistband, cuffs & collar, concealed hood & sleeve pocket with pen partition
ordered 6/7/2017 but the box was never opened
Original cost:  $46.62
Contact: Phil, Bellbrae – 0412 524 316  |  pandapilgrim@gmail.com
---