Welcome to the Club's buy, swap and sell section.
To advertise, please e-mail our Editor. Send a short description of what you're offering (or want), as well as a photo or two, asking price and your contact details. It's free, and open to Club members and non-members.
Advertisements will remain in place for one month. If you buy, swap or sell your item in the meantime, please let us know so we can remove your listing from the site.
Please note: notices in this section are presented as a service to members only. The Mazda MX-5 Club of Victoria & Tasmania Inc. has not tested the products, equipment or services listed and makes no warranties or representations about any of the products or their purported uses.
---
Wanted
Luggage rack for NA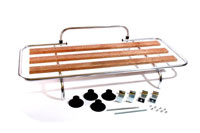 boot lid luggage rack to suit NA to support summer touring season plans (similar to that shown above)
Contact: Alexander (Melbourne) – 0418 120 443  |  ahcorne@gmail.com
---
NA radio / NA shocks
original NA radio in working condition
two standard front shocks suitable for NA
Contact: Hilton (Club member), northern Tasmania – 0412 216 124  |   jmstead@bigpond.com
---
1991 NA door mirror
passenger side door mirror from 1991 NA
any colour … but if you have a Sunburst Yellow one I'd be a very happy chappy!
Contact: Mark (non-Club member), Foster North – 0414 600 236
---
For Sale
1990 NA auto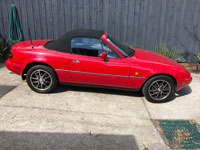 great car in good condition for its age
158,945km
mechanically runs well
registered until March 2019
replaced soft top, just replaced two new tyres, most hoses replaced and has new radiator
Clarion multimedia station with Bluetooth 6.2 touch panel with reversing camera
female owner last three years
serviced regularly and has been much loved!
will provide RWC on sale
Asking price:  $10,000.00
Contact: Debbie (non-Club member), Croydon – 0402 346 452
---
2000 NB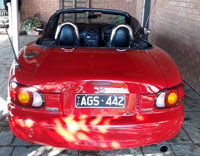 mint condition
196,000km
brand new vinyl roof
German chrome roll bars
English crhome grill
crhome petrol cap
registered to August 2019
Asking price:  $10,500.00
Contact: Julie – 0400 885 524
---
1989 NA on Club plates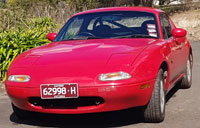 a stunner: excellent condition; beautiful interior
VIN – October 1989
manual with roll bar and correct hard top
soft top in excellent condition.
152,378km … only 27km done  since last RWC
original radio and cassette player
new floor mats and new Mazda carryall on rear parcel shelf
handbook signed in Japan by designer (?) 1991
factory A/C (needs regassing but is on new type gas, professionally converted with new dryer etc)
lots of documented history back to 2002
bought for my wife but sadly she can't manage a manual shift!
Plus: rapid consumable spares package and some books if interested at fair cost
Asking price:  $7,250.00
Contact: Lachlan (non-Club member), Wonga Park – 0432 228 330
---
2000 Silver NB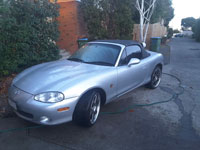 169,000km
registration expires 27/10/18
Immaculate interior condition with minor wear and tear to the roof
Mods: 18" six-spoke Asuka racing rims; all else is original
Asking price:  $8,000.00 excluding all goverment costs
Contact: Jake – 0428 826 330  |  jacob.millington6@gmail.com
---
18″ mag wheels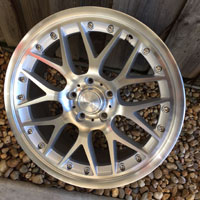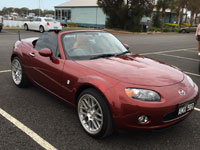 4 x 18 inch aftermarket wheels
look sensational on MX-5
Note: the splash of pink in the photo above is a reflection only.
Tyres to suit also available
Asking price:  $400.00 the set
Contact: Paul (non-Club member) – 0488 218 181
---
15″ tyres – set of 4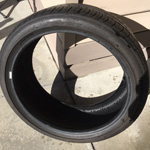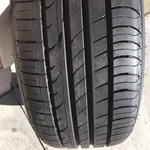 4 x Hankook 215/40R18 85V tyres
as new – less than 1,000km
Asking price:  $480.00 the set
Contact: Paul (non-Club member) – 0488 218 181
---
2001 NB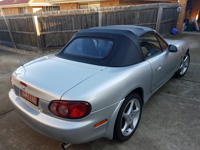 silver
very good condition
125,164km
Asking price:  $10,500.00
Contact: Steve (non-Club member) – 0412 612 934
---