Welcome to the Club's buy, swap and sell section.
To advertise, please e-mail our Editor. Send a short description of what you're offering (or want), as well as a photo or two, asking price and your contact details. It's free, and open to Club members and non-members.
Advertisements will remain in place for one month. If you buy, swap or sell your item in the meantime, please let us know so we can remove your listing from the site.
Please note: notices in this section are presented as a service to members only. The Mazda MX-5 Club of Victoria & Tasmania Inc. has not tested the products, equipment or services listed and makes no warranties or representations about any of the products or their purported uses.
---
For Sale
2005 NC Bilsteins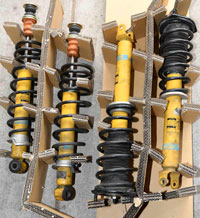 front and rear adjustable Bilsteins from a 2005 NC Limited Edition MX-5
they have been sitting in a box for 8+ years after the original owner replaced these after little use
Asking price:  $200.00 ONO
Contact: Alan (Club member), eastern suburbs – 0427 868 885
---
1992 Black Eunos Roadster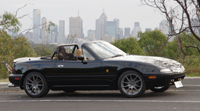 eligible for club plates in May
imported MX-5 NA Mk 2)
power steering
leather steering wheel
power windows
limited slip differential (LSD)
wooden Nardi steering wheel, gear stick and handbrake handle
resprayed five years ago
new mag wheels
installed Brown Davis Roll-Bar for safety (easy to remove)
original leather seats with speakers in the headrests and two racing style seats, installed for comfort (photo shows one of each seat)
hardtop in excellent condition
six-CD stacker
professionally cleaned and detailed
$500 discount if a current Club member buys the whole package
more details: carsales.com.au, ref: SSE-AD-4683241
Asking price:  $11,800.00
Contact: George (former Club member), Melbourne – 0404 054 028
---
1992 Classic Red NA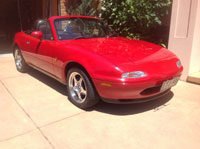 original 121,842km
A/C, no power steering
style bar no holes drilled)
15″ Rota alloys and 195 x 60 x 15 Kumho Tyres as new
"daisy" wheels and tyres also
timing belt, water pump and pulleys done – receipt
excellent original condition throughout
for more details, see carsales.com.au
Asking price:  $11,990.00
Contact: George (non-Club member), Melbourne – 0432 083 614
---
1998 Neo Green NB
[no photo available]
automatic
116,000km
10 months' registration
excellent condition – RWC
Asking price:  $8,500.00
Contact: Kathy (non-Club member), Orbost – 0478 605 344
---
2000 Silver NB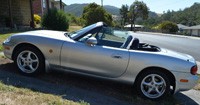 soft top
91,000km
registered (Tasmania) until September 2017
Asking price:  $8,250.00
Contact: Paul (non-Club member), Hobart – 0490 104 562
---
1991 Neo Green limited edition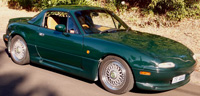 #32 of 300
78,000km
tan leather interior, Momo wooden steering wheel, Momo wooden  gear knob (numbered)
Rod Millen 'Racing Dynamics' kit including, front airdam, rear spoiler and skirt, very rare Linea Sport wheels and Dunlop Le Mans 205/45ZR16 tyres
headrest speakers, CD player
stainless steel scuff plates
air conditioning
colour-keyed removable hard top (with glass), tonneau cover
immobiliser
Asking price:  POA
Contact: Grant (non-Club member) – 0412 121 631
---
2005 NC parts – wreck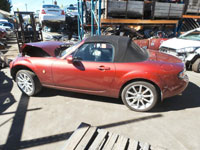 currently wrecking
2.0L engine, 75,677km
most parts available
freight can be arranged for all items, Australia wide
Asking price:  POA
Contact: Ethan, Just Japanese Auto Recyclers, Glenorchy – 03 6272 0515 Mon-Fri 8am-5pm | ethan@justjapautos.com.au
---
MX-5 SP plates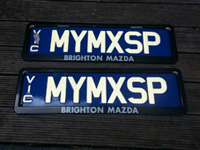 the car's gone – now for the plates!
perfect for your SP
like the car, be quick!
Asking price:  $250.00
Contact: Yuri (non-Club member), Bentleigh – 0410 403 513
---