Welcome to the Club's buy, swap and sell section.
To advertise, please e-mail our Editor. Send a short description of what you're offering (or want), as well as a photo or two, asking price and your contact details. It's free, and open to Club members and non-members.
Advertisements will remain in place for one month. If you buy, swap or sell your item in the meantime, please let us know so we can remove your listing from the site.
Please note: notices in this section are presented as a service to members only. The Mazda MX-5 Club of Victoria & Tasmania Inc. has not tested the products, equipment or services listed and makes no warranties or representations about any of the products or their purported uses.
---
Wanted
NB8A wheel
one 15″ standard allow wheel to suit NB8A
must be undamaged
Contact: Gary (Club member, Western Victoria) – 0409 959 095  |  gary_vdd@hotmail.com
---
NA radio / NA shocks
original NA radio in working condition
two standard front shocks suitable for NA
Contact: Hilton (Club member, Northern Tasmania) – 0412 216 124  |   jmstead@bigpond.com
---
1991 NA door mirror
passenger side door mirror from 1991 NA
any colour … but if you have a Sunburst Yellow one I'd be a very happy chappy!
Contact: Mark (non-Club member, Foster North) – 0414 600 236
---
For Sale
18″ mag wheels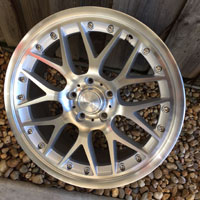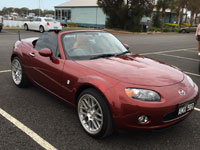 4 x 18 inch aftermarket wheels
look sensational on MX-5
Note: the splash of pink in the photo above is a reflection only.
Tyres to suit also available
Asking price:  $400.00 the set
Contact: Paul (non-Club member) – 0488 218 181
---
15″ tyres – set of 4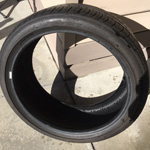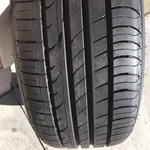 4 x Hankook 215/40R18 85V tyres
as new – less than 1,000km
Asking price:  $480.00 the set
Contact: Paul (non-Club member) – 0488 218 181
---
2001 NB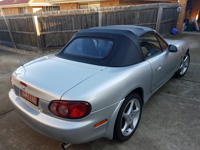 silver
very good condition
125,164km
Asking price:  $10,500.00
Contact: Steve (non-Club member) – 0412 612 934
---
Rims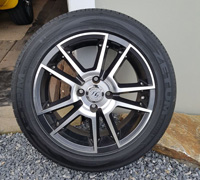 4 x Rodney Jane Racing rims
15"x6"
40mml offset
rims only … no tyres
very good condition
Asking price:  $300.00 ONO
Contact: Hilton (Club member, Northern Tasmania) – 0412 216 124  |   jmstead@bigpond.com
---
2003 NB – unfinished project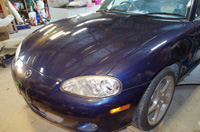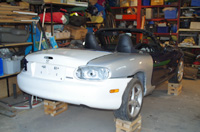 the car was hit in rear quarter and is registered as a repairable write off
motor and manual gearbox running prior to pulling apart, about 110,000km
front end and doors in very good condition
differential cracked due to accident
perfect to build up as a track car or for parts
rear panel and bumper not attached – just hanging for photo
colour: Midnight Blue, code 22A
Asking price:  $2,800.00 ONO
Contact: David [non-Club member], Mansfield, Vic – 0428 346 790
---
1997-complied NA8 manual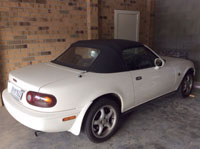 132,000 original km
two owners (original owner until 2014)
air conditioning
full service books
completely original except for 15″ NB8A rims
owned by an MX-5 enthusiast
beautiful and unmolested condition
perfectly maintained
no accident history
Asking price:  $12,750.00
Contact: Andrew [former Club member] – 0403 360 590
---
NB8A track car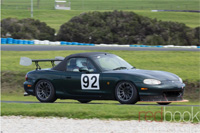 Asking price:  $15,000.00
Also: Car Trailer for sale
dual axle, flat bed
capable of upgrading to an enclosed trailer
Asking price:  $2,000.00
Contact: Robert [15-year Club member] – 0424 317 116  |  bobinfra@gmail.com
---
2005 Silver NC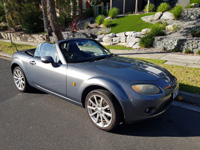 soft top
180,000km
registered until February 2019
very good condition and well maintained
Asking price:  $11,500.00
Contact: Liz [non-Club member]
– 0459 416 612
---
2010 Silver NC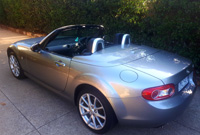 good condition
RWC
registered until February 2019
Asking price:  $18,000.00
Contact: Rob [non-Club member], Frankston – 0423 273 489 | robbie.rees05@gmail.com
---
2011 True Red NC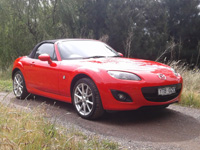 152,000km
six-speed manual soft top
easy country commuting use
one lady owner since new
excellent condition
full service history
reverse parking assistance fitted
Asking price:  $16,800.00
Contact: Loris [non-Club member] – 0411 190 491
---
2001 Silver NB8B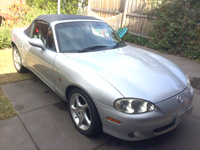 140,605km
set up for Standard track days
braided brake lines, Brown Davis roll bar, oversize radiator (plus original), Sparco seat, five-point harness, KYB shocks, extinguisher. Otherwise standard. (I did about two seasons of MX-5 sprints in it but have not used the for two years now so needs a new owner)
in really good nick
around 10 months' reg
Asking price:  $11,000.00
Contact: Geoff (Club member) – 0412 743 810 |  gcsanders@hotmail.com
---
MX-5 ND 1.5L GT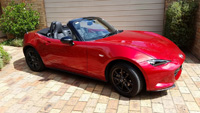 Soul Red Manual
only 8000km, with six months reg. (first registered 14th October 2015; warranty expires October 2018)
integrated reversing camera
excellent condition
a delight to look at and a pleasure to drive … just like new
(selling only because current owner has purchased a new ND RF GT model)
Asking price:  $28,000.00 ONO
Contact: John (non-Club member)
– (03) 9842 4897 |  impulse101@optusnet.com.au
---
NB boot rack
fully-equipped NB rack
silver
excellent condition
Asking price:  $500.00 ONO
Contact: Anand (non-Club member) – 0466 895 508  |  anand.thilla@gmail.com
---