Motorkhanas are motor sport events designed to test the acceleration, braking and handling of cars and the skill and judgment of drivers.
Most importantly, motorkhanas provide fun and enjoyment whilst practising and learning car control. Oversteer and understeer will be found in abundance, but at safe speeds under controlled conditions.
Both everyday road cars and purpose-built "Specials" can be used in motorkhanas. At most events, classes cater for varying types and sizes of vehicles. Cars must comply with basic safety requirements, but no special equipment is required. Obviously, steering, tyres and braking must be in safe condition, and the vehicle should be reliable.

Mazda MX-5 Club members participate in the NGK Victorian Motorkhana Championship at venues around Victoria, Deniliquin and Mt Gambier.
Motorkhana in an MX-5?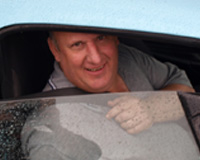 For more information, see the
Victorian Motorkhana Championship website
or
email
our motorkhana team leader,
Bob de Bont
.