Every two years, the MX-5 Clubs from every state of Australia get together for a national gathering called NatMeet.
NatMeet brings together owners from all around Australia in the one place to talk, have fun and show off their pride-and-joy. The event program combines motor sport with other events like funkhanas, navigation rallies, treasure hunts, convoy driving, a concours d'elegance / show & shine and a good deal of social activity over the four or five days.
These gatherings were born at a meeting of all State MX-5 Club presidents at Daylesford, Victoria, in July, 1993.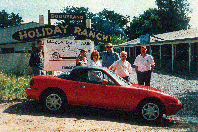 Pictured here are the State presidents at the Mazda-sponsored meeting that saw the birth of NatMeet: from right – Grant George (SA), Peter Randell (WA), David Henry (Vic), Lea Findley (NSW) and David Verna (Qld). At left of the group is Murray Finlay (Vic), who was secretary of the meeting. Sue Ransom took the photo.
NatMeet kicked off in Adelaide in 1994, followed by:
• 1996 – NSW
• 1999 – Queensland
• 2000 – Victoria (Ballarat & Melbourne)
• 2002 – South Australia (Clare Valley)
• 2004 – NSW (Leura, Blue Mountains)
• 2006 – Queensland (Kooralbyn)
• 2008 – Victoria (Beechworth)
• 2010 – South Australia (McLaren Vale)
• 2012 – NSW (Canberra)
• 2014 – Queensland (Caloundra)
• 2016 – Victoria & Tasmxnia (Launceston)
• 2018 – South Australia (Barossa Valley)
• 2020/21/22 – NSW (Cancelled due to COVID)
NatMeet 2022 (NSW)
14 September 2021 / Words by Wesley Hill
It is with sadness that I advise you that the recommendation of cancelling NatMeet 2022 was discussed and endorsed by the Club Committee at the September meeting.
This decision has not been taken lightly – indeed the go/no go decision has been delayed for as long as possible in the hope that things would normalise, but given the virulent Delta variant and its impact on all our lives, is making a return to normality an extremely lengthy process. This is exacerbated by the imposition of strong quarantine requirements by several state Premiers making it extremely difficult for potential attendees to plan future interstate travel.