"mxtra" is the monthly magazine of the Mazda MX-5 Club of Victoria & Tasmania, and the only monthly MX-5 Club magazine in Australia. It contains all the latest news on social and motor sport activities, Club member profiles, favourite roads, technical tips, news of upcoming events and more.
The current edition is a privilege available only to financial Club members, and of course you're welcome to join the Club at any time.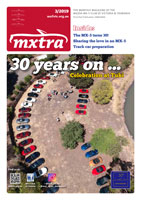 If you're not a member … here's a sample

If you're thinking of joining the Club and would like to see more of what we get up to, download a back issue of mxtra (left).
Online version
If you have opted to receive mxtra online, you will receive notification each month when the next edition is available for download. Remember, it's your responsibility to ensure the Club always has your current email address. Please also ensure you have added the MX-5 Club email address, , to your "safe" mail list. If you haven't received your monthly notification by mid-month, please contact the Membership Officer and we'll rectify the problem as soon as we can.
For the online current edition and back issues click here (members only section)
mxtra content
Enthusiastic Club members provide the bulk of the articles and photographs for the magazine, and your contributions are very welome.
Please be aware that any articles and photographs you supply for the Club's mxtra magazine may also be uploaded to the Club's website and online gallery, and may remain there indefinitely. Whilst the copyright of these photos and articles will remain yours, by providing them to mxtra magazine, you are permitting their irrevocable, non-exclusive and indefinite use across the Club's website, magazine and online gallery. [The Club undertakes not to use them for any other purpose without your express permission.]