The beauty of khanacross is that it's basically a slow event (this doesn't mean that it's not very challenging … plus you have to remember which way to go!).
You drive around a marked course, weaving between witches' hats and around bollards as you negotiate a challenging course that tests and improves your driving skills. It's doubtful that many cars get out of 2nd gear.
You only have to be as serious as you want to be, because you are only competing against yourself. Beginners are allowed to have an instructor in the car.
The Club's Eastern Victoria Chapter hosts an annual Club Khanacross Championship at the Gippsland Car Club's hillclimb course at Bryant Park, near Moe, with around eight rounds each year. All MX-5 Club members are welcome to come along and test their skills on these days (subject to capacity), so make sure your keep an eye on the Club calendar.
Khanacross is also great for learning car control, and a BIG focus for us is to try to get more kids involved … why not consider getting your kids or grand-kids to come along to a khanacross event and learn some driving skills at low speeds? Kids over 12 years of age can drive in khanacross events, with an instructor in the car with them.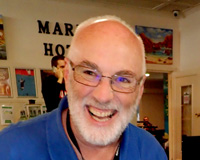 For more information, please email our Khanacross organiser, Peter "Ferg" Ferguson.