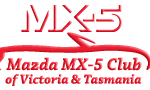 COVID-19 Pandemic Policy

The Mazda MX-5 Club of Victoria & Tasmania Inc. has an obligation to protect the health and safety of all participants attending our events and functions, and to eliminate, or reduce the risks so far as is reasonably practicable. Furthermore, we also have an obligation to comply with all regulations issued by the Victorian, Tasmanian and Commonwealth Governments.
Scope
This COVID-19 Pandemic Policy applies to all persons who participate in club events and functions.
Policy Statement
The Mazda MX-5 Club of Victoria and Tasmania Inc. is committed to continually striving towards a safe and healthy environment for all participants, including taking all reasonably practicable steps required to protect participants, and others from the risk of COVID-19. Our COVID-19 Pandemic Policy will continue to be informed by assessing risk and the safety of participants, any applicable laws, enforceable government directions and advice issued by Federal and the relevant State Governments.
Therefore, as a clear policy statement for event organisers and members we offer two options:
A/ Fully Vaccinated Events

all members, guests and trial members attending these Club events, functions and activities to be either fully vaccinated, as defined by the ATAGI, or have an official medical exemption certificate.
B/ No Vaccination Required Events

members, guests and trial members attending these events may or may not be vaccinated. Any events arranged as No Vaccination Required Events must be clearly highlighted as such to avoid any confusion.
The Club expects all members and guests who are feeling unwell or have a cold, scratchy throat, or temperature to not attend events. In addition, vulnerable people with a medical condition are encouraged to consider whether they should attend.
Club Runs & Functions
Participants pre-booking through the Club website for Fully Vaccinated Events will be required to confirm their vaccination status.
Inside Functions
When the Club holds functions such as Awards, etc or Club runs end at cafes, restaurants, etc all members and guests must comply fully with the COVIDSafe Plan of the venue.
This includes check-in, hygiene and any other requirements that may apply.
General Health and Hygiene
When involved with the Club, members and guests are encouraged to maintain the following COVID hygiene practices:
• Wear a face mask when inside a public space
• Maintain physical distancing (1.5 metres)
• Maintain good hand hygiene
• Don't attend activities if unwell
• Cough and sneeze into tissue or elbow
If you have any queries, please feel free to contact the President () or the Club Captain ().