hr-NB8A Lyn & Ian Williams

hr-NB8A Stephen Gallagher

hr-NB8B George Papanikolopoulos

hr-NB8B Murray Heazlewood

hr-NB8B Stephen Gallagher

NC1 3rd Generation Limited Edition

NC1 Third Generation Limited Edition

hr-NC1 John & Rosalie Cooper

hr-ND1 2.0L Brian Francis

hr-ND1 2.0L Philip Menzes

hr-ND2 2.0L Murray Finlay
Welcome to the Heritage Register
of the
Mazda MX-5 Club of Victoria & Tasmania Inc.
As a logical extension to the information gathered for the Mazda MX-5 30th birthday and recognising that many of our older Club vehicles now exceed 30 years of age, we feel it is important that  the history of  MX-5s in our Club should be preserved.
Click here  Mazda MX-5 Heritage Register if you would like to have your Mazda MX-5 included.
Need more information or some help? Send an email to  with your contact details, what information you need and we will get back to you.
Please let us know of any errors, or omissions, so that they can be corrected.
The Mazda MX-5 Heritage Team
You must be logged in to view the heritage records. Not a member yet? Join Now!
---
Heritage Register
The content on this page is for members only.
You will need to be a member of the Club to access this information and then login.
"The Mazda MX-5 Club of Victoria & Tasmania Inc. or the authors of these documents assume no responsibility or liability for any errors or omissions in the content of this site. The information contained in this site is provided on an "as is" basis for information only with no guarantees of completeness, accuracy, usefulness or timeliness."
---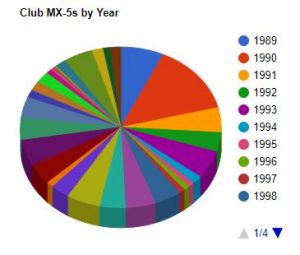 An overview of all MX-5s in the Club
---