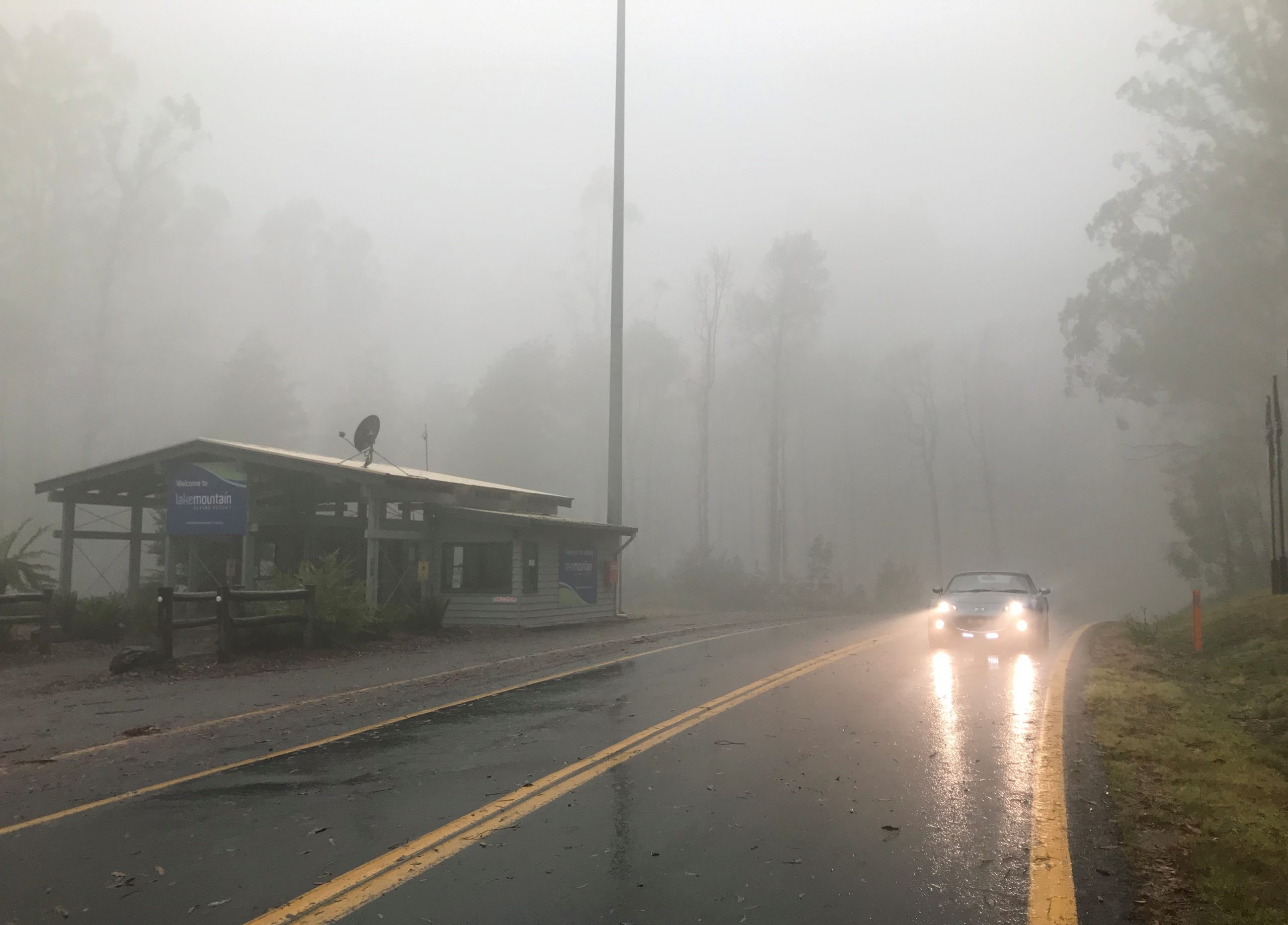 Words, photos and organisers: Margie Cusack & Bob de Bont
The first run of 2020 – the run that nearly wasn't!
After weeks of incredible heat and devastating bushfires, this Monday dawned to a misty, hazy and overcast day with a tinge of smoke mixed in.
We headed across to Yarra Junction and waited at the start point for someone (anyone) to turn up for the run.
We were initially a little confused when a NSW registered MX-5 appeared next to ours and the occupants were nowhere to be seen.
At 9.55am, with no-one in sight, no calls or messages, and a scheduled 10am start, we were starting to debate what we were going to do!
The owners of the NSW MX-5 appeared – new members Craig and Julie Dixon with a recently-purchased NC had driven from Mansfield for the run. A quick drivers' brief and discussion followed, with the decision we would carry on the run as planned with only the two cars.
From Yarra Junction we headed towards Reefton Spur using my favourite Old Warburton Road before a quick stop to lower our roof.
The climb up Reefton Spur was unique, with various stages of mist and fog all tinged with the smell of smoke … and the total lack of any other vehicles.
Cumberland Junction came and went and the mist/fog thickened until the turn towards Lake Mountain. From here the fog increased along with large amounts of leaf litter.
We were welcomed at the Lake Mountain Café by a couple of cars and an "café open" sign, so we headed in for a warming coffee. We had also tactfully parked our cars pointing towards the car park exit, as this was barely visible in the fog.
Coffee consumed and conversation suspended, we headed out to the cars to discover the fog had really rolled in and we had barely two meters of visibility! Not much we could do but creep across the carpark and, using the GPS, we finally found the exit. Using the yellow lines as our guide, we descend at a very cautious rate until we reached the turn towards Marysville.
The pace increased as the fog cleared and we descended into Marysville. Within sight of the roundabout we met our first car on the road since leaving Warburton!
We noticed another MX-5 as we headed to the Marysville Bakery for lunch; they waved at us, and we looked at them, before finding out it was Stephen and Yana Douglas who had driven from Koo Wee Rup to meet the run in Marysville, and had tried to call and text me whilst I was out of mobile range.
All good as we had an enjoyable and extended break in the nearly-deserted bakery.
After lunch Stephen and Yana were heading straight to the Chocolatier at a leisurely pace, whilst we headed towards Healesville along the Black Spur (with its obligatory traffic), a run up Myers Creek Road (more traffic) followed by a run down Chum Creek Road (clear) before meeting up again at the Chocolatier where I finally received Stephen's text message!
After a wander around and sampling some of the vast array of chocolate we sat down, talked about all things cars and over-indulged in chocolate …
Someone has to do it!
More photos of the run can be found here.