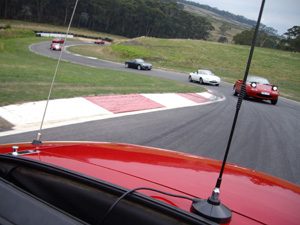 Story: Jenna Perks
Well, no big surprises here – yet another fantastic 'Eastern Victoria Chapter' run! Meeting on a Saturday was a little bit of a throwback and I suspect it affected our attendance numbers too, but that was their loss!
Twelve cars in all, meeting at McDonald's Moe to be led for the day by Travis. It was good to see some new faces and once again some of our Central Chapter.
Travis has finally moved his new Enkei wheels from the lounge and put them on his car – they look great but I wonder if he will still be able to kiss them every night!
I was disgusted of course that Mel and her new car were a 'no show' after the write-up I gave her last time! Turns out she was getting ready for the bigger showdown – the Tassie Run – I guess that's a decent excuse! Rob did turn up but wouldn't talk to me about his driving shoes!
We took off from Moe and headed straight to the awesome treat that Travis had arranged for us. Arriving at the Gippsland Car Club Bryant Park hillclimb, we were greeted by the legend himself – John Bryant.
John talked us through some interesting facts about the history of 'hillclimb tracks' and the long journey travelled resulting in the fantastic new track and beautiful pavilion. All the while, their club members were active with a big 'spring clean' morning, 'play time' afternoon – awesome team spirit!
THEEEEENNNNNNN we were invited to go play on the track!! Trav, you ROCK! Three times clockwise and three anti-clockwise – doesn't sound like much but … OMG, thrilling! I am a daughter sitting beside my dad, with years of rallying, hillclimbing and racing under his belt, being talked through as he works out the best entrance, exit, apex, throttle, etc.
And yep, I squealed a bit when he started letting the rear end, er, explore the limits of traction! There's no doubt about it, heaven is a racetrack and my dad is my Idol! A huge thanks to John Bryant and Travis for arranging this opportunity, very much appreciated. It seems a really good idea for our Chapter to develop closer ties with the GCC!
Leaving the track was a little interesting, watching everyone trying to remember that they were back on the road and having to behave. The police car a few kilometres down the road certainly helped there – nothing to see here sir, just some Sunday drivers in low-performance vehicles …
After a great run to Noojee, including some gravel (great time to decide to re-make a patch of road!), we had a half-hour drink stop at the Tool Shed in Noojee – now I'm not sure even Trav could have prearranged the next few things! As we arrived, so too did a large contingent of the Mini club. It was like a HUGE Tiny Festival! Even a three-wheel Reliant! Then to top it all off, a chopper (the helicopter kind, NOT a motor bike!) landed, and eight people poured out of it!
Time for us to hit the road again and do what we do best! Noojee to Baw Baw –who could ask for nicer roads in the back yard? OK, so the pot holes test the suspension and clearance but who even notices that with those corners and awesome surrounds! I couldn't believe we didn't pass one single vehicle the whole way … pity you never know that stuff ahead of time! None of us even noticed it getting colder, until we stopped at the top – hit us like an instant deep freeze then!!
Beautiful warming lunch at the top (while watching masses of crazy push bike riders do it tough) with the view of controlled burning in the mountains! The view was still amazing; just looked like a morning fog.
Defrosted, full tummies, coffee buzzed and raring to go again, we hit the down slope of that hill with a passion! Oh gravity, sometimes you add the flare we're after.
We arrived, very staggered, back at the Tool Shed in time to see the chopper take off again! (Did you plan it all this way Trav!?!) We guessed that their afternoon ride must have cost about $4K! I don't know about you but I would rather put that kind of money towards an MX-5 so I can enjoy MANY MORE Eastern Victoria Chapter runs. Thank you to everyone involved for making it another fantastic memory!
There are two Gippsland runs coming up in the near future – be sure not to miss them!