Story: James Lang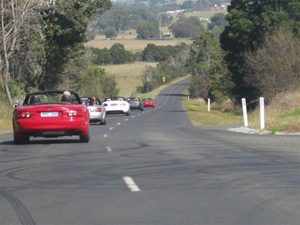 After the last attempt at a "fish and chip run" in February 2014, which was unfortunately cut in half by the Devon North fire, we thought a second attempt to get fish and chips from a jolly nice seaside town was worth a try.
This year's target that we would unleash our happy bunch of drop-top funsters on would be the not-so-sleepy salt-sprayed hamlet of Inverloch.
All signs looked good for a trouble-free and uneventful run this time – no fires, no insanely hot and strong north-westerly winds. We had a very good turnout with a few travellers fronting up from the eastern side of the Central Chapter – a total of 15 cars which was many more than expected. We even had one very keen participant, Siddique Fisher, who had only had a short amount of sleep after going on the Great Ocean Road night run not so may hours previously!
So, after making sure that all put their signature on the run sheet, a drivers' briefing was held and I found myself on the extreme opposite end of my preferred 'Tail end Charlie' run position. I suppose one of the benefits of organising and leading the run is that you have the wide open road in front of you. At least that's the theory. After reminding everybody that I was Captain Slow, and to just relax and enjoy driving through the rolling hills of South Gippsland, we set off.
The run through Sunny Creek Road, a perennial favourite slightly north-east of Trafalgar, had a few varied obstacles tossed in for flavour – such as wandering livestock, waterfowl, and a free shower courtesy a potato farmer's crop irrigator drenching the road, so I hope nobody got damp. After a straightforward run through Mirboo North and Mardan, we took over a fair chunk of the Leongatha McDonald's car park over, ordered our coffee and proceeded to 'chew the fat' for a while before setting off to Inverloch via the Outtrim road. This is a great little bit of twisty uphill tarmac which Peter Ferguson suggested to make the run to lunch a little more interesting. Peter told a story later in the day of being a pillion passenger some years ago on the back of a friend's motorcycle going downhill quite quickly on the same stretch of road, and being very relieved when he got to the end of the journey in one piece …
Our lunch stop arrived soon enough, and we all managed to park together within a short walk of the fish and chip establishments. Some of our colleagues had to leave the run at Inverloch, so after we bade each other goodbye, the convoy headed straight back to Trafalgar in the most direct line – which did not have as many fun bits, but left us with the maximum amount of time to view the Holden Museum. So we all arrived back at our starting point without any issues or dramas.
The Trafalgar Holden Museum is well worth a look if you are passing through town. It documents the history of Holden from its humble beginnings in the mid-19th century (when the company first made saddles) to the current day, and features models from the FX humpy Holden onwards.
It's good when almost everything runs more or less like clockwork, but it gives you less material to work with when you are trying to write an interesting run report that will not put people to sleep!