Story: Greg Jordan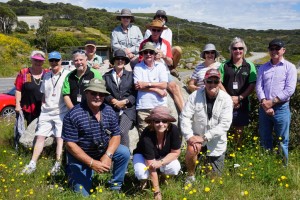 Sometimes, in the middle of your Monday, you look back and think:"What did I do on the weekend?" Sometimes you get there and just smile. Sometimes you drive nearly 1,000km.
After Saturday lunch I washed the car and headed from Melbourne to Yackandandah. It's only 320km. The wash was a waste of time. Although Melbourne was sunny, the rain started as I made my way out through Lilydale and continued through Yea and almost to Bonnie Doon. A brief coffee stop there, then on towards Benalla and the freeway to Wangaratta. Taking the Beechworth Road, Yackandandah was soon reached and I checked into the motel. A walk around town and dinner at the Yack Hotel and an early night in preparation for Sunday's drive.
After a great night's sleep I woke to light drizzle despite a forecast of 37°C. I set off to meet the NEV Chapter at Isaacs Park at about 8:30. Greetings, a chat and the briefing, then we were off for Mt Beauty via Carrolls Road, and the Happy Valley Road and a huge sense of déjà vu as we passed my uncle's old farm and childhood memories of milking, chasing calves and fun flitted by. Back to focussing on the road, we arrived in Mt Beauty and the bakery for morning tea.
Relaxed and sated (carbed and caffeinated), we headed along the Bogong High Plains Road into the Alpine National Park. This is a great road. Hairpins, sharp curves steady climbs with occasional short straights (to pass cyclists and vans) – ie, designed for the MX-5. Google lists it as only 30km, but with the constant gearshifts, brakes and turns it's a test of skill, concentration and a reminder to do more arm weights in the gym. I must thank the non-MX-5 drivers who pulled over when safe to let us pass.
Through Falls Creek and we were greeted by the high plains. Cool with a gently undulating landscape, wildflowers and sweeping curves. It was a relaxing drive after the twists and turns to get there. We stopped for a group photos at the Rocky Valley Dam and were then into the cars again and off down the mountain. Around the same standard of hairpin bends and curves, only downhill this time.
On to the Omeo Highway we headed along the relatively newly sealed, and still gravelly, road over Mt Wills to lunch at the renovated Mitta Pub. Cold drinks and great meals, lively conversation and more chips (potato not paint) than could be eaten.
The sun was out with force as we prepared to leave. The temperature had reached near 40° as promised and a number of us put the roof up as well as the air-conditioning on cold and high. Over lunch, the Bright/Myrtleford group had decided to turn off early rather than to go back home through Yack.
We all took the back road to Eskdale, but somehow the 'Bright' group at the rear disappeared and so the rest of us waited for these "lost souls" in Eskdale. Having decided they had turned off early (or earlier than we expected) we glided over Lockhart Gap, through Tangambalanga then back to Yack. My tacho was at 308km as we stopped at the Yackandandah Café.
Reminiscences of the drive with my fellow MX-5ers and cool drinks finished, I was then back in the car for the evening drive to Melbourne. Breaks every hour with a walk around and coffee, I put the roof down in Yea and cruised over the ranges to home.
Summary: 642km in the day. 308km of the best roads I have ever driven and the most fun you could have on a weekend. I'll be back for my third Mitta Mitta run next year. Join me?