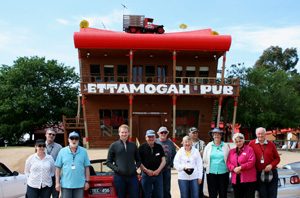 Story: Ron Gillick
Until very recently our run was to be Bill and Elaine's annual Jingellic Run along the banks of the Murray River, with lunch at the picturesque Jingellic pub.
However, based on some recent personal experience and reports from others, it seems that the pub no longer offers the same enjoyable experience that it once did.
So, a late decision was made to change the route to travel along some of the lesser-travelled roads through southern New South Wales just north of Albury. This region is not noted for its winding roads, with good reason, but Bill and Elaine did find some for us as they took us to some of the area's local attractions.
With two visitors from Eastern Victoria Chapter, Peter Ferguson and Rob Krygsman (see their story on page 30), Ian and Yvonne Huggins on their first run and Keith Thompson along as a guest hitching a ride in a couple of vacant passenger seats, we set off from Wodonga with seven cars on a warm North East morning.
Our first stop was at the iconic Ettamogah Pub. Anyone old enough to have grown up sneaking a peek at Post magazine when their parents weren't looking would remember the cartoon in each edition. Well, someone was silly enough to build a real version; it's closed at the moment, but is said to be re-opening soon.
Our next stop was Morgan's Lookout, a pile of rocks on a small hill in the middle of a mostly flat area. The story is that it was used as a lookout by the bushranger "Mad Dog" Morgan and afforded him uninterrupted views in all directions.
Back on the road and we found ourselves in Holbrook looking at a submarine with no ocean within several hundred kilometres in any direction. There is a long story about why it's there but I won't bore you with it now. It has been there for many years and was a compulsory stop on any trip up the Hume Highway before Holbrook was recently by-passed by the Hume Freeway.
Lunch was our next stop and Bill and Elaine had kindly invited us to their home at Woomargama (near Holbrook) for a BBQ lunch. All morning I had been wondering how they were going to achieve this as they were at the front of our convoy and not at home cooking it. But it was all ready when we arrived thanks to their daughter Kathy, her husband Darren and their son Jeremey. Our thanks to them for doing the cooking and to Bill and Elaine (I suspect mostly Elaine) for the meal including the best lemon meringue pie I have ever eaten.
Dragging ourselves away from second helpings of said pie, we headed off to the Wymah Ferry to take us across Lake Hume for the most enjoyable run around the banks of the lake and back to Wodonga to finish with a coffee.
Thanks to Bill and Elaine for a great day, and to our visitors from "down south".