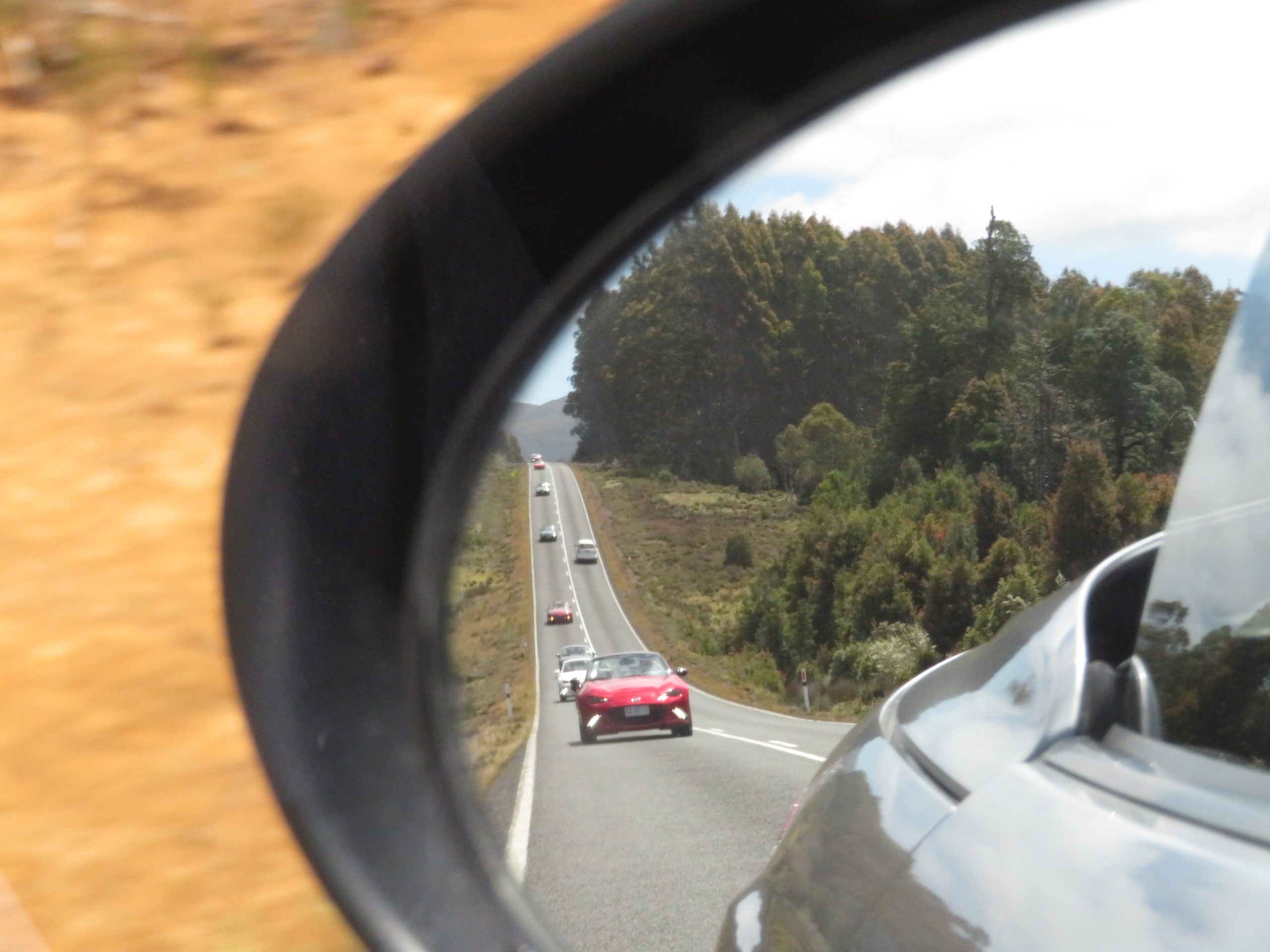 Words & organiser: Wendy Keswick Photos: Jill Steer, Alana McDougall
Fourteen MX-5s, all lined up, tops down, in the sunshine at Deloraine Train Park; ready for the first fun run of 2020 … after coffee of course.
Oh, and one Triumph Tiger 800 (motorbike). OK, so it wasn't an MX-5, but we allowed that; after all the rider is my beloved partner Paul who typed out the directions, checked the mileage from the start point and led me on a practice run three weeks before (along with Nigel, Tash and other friends.) We don't travel well together in MY car, so I bring a friend; there's no bloodshed that way.
Now I'm new to this zipping around the countryside in a sports car and not the fastest out of the starting blocks or even throughout the journey. So, I elected to hang back and our illustrious Chapter Captain, Alana, took the lead in her new, grey, limited edition NC, read the printed info and took point. Thanks for that Alana.
The first part of our journey took us through Mole Creek up through the Gog to Sheffield for our first pit stop.
Following on towards Moina, via Cethana and some nice twisties, along with campervans, slow drivers … one of our wise-cracking compatriots commented (over the radio) that he never had such a lovely scenic drive through that area. We advised him to enjoy it!
Our trip to the lunch stop at Hellyers Gorge rest area took us along a most magnificent run along Cradle Mountain Road (where we unfortunately saw the aftermath of a two-car smash) via the Vale of Belvoir, finally connecting with the A10 Murchison Hwy down through one of the best parts of the day for me – lots of great twists and turns, really putting me and my MX-5 (aka The Madam) through our paces.
The picnic lunch spot was perfect; when we arrived there were a couple of caravans and other tourists already in situ, although there was plenty of room for us to sit and chew the fat, welcome new members (Robert and Christina from Rosevears) and generally soak up the sun and eat tasty grub. Most of the other vehicles had left before us, obviously overwhelmed by a group of sports cars and owners descending on them. What is the collective noun for this – 'a drive of MX-5s'? [Ed ~ I think it's a "chase"!]
Some of our group left us here and headed home, possibly to feed the garden and water the dogs or something like that. The remainder of us continued on to Wynyard through some further interesting back roads to The Wonders of Wynyard and Visitor Information Centre to see the second-oldest Ford in the world (Ford wants to buy it, owner Francis Ransley says 'no').
Additionally, there is a collection of penny farthings, an ex-military bicycle, bone shakers, an Indian motorbike and Fords, Oldsmobiles, Cadillacs, Darracq, an Alamson Brush from 1905-1928 or so, and a Waverley silent electric car built in Indiana, USA, by the Waverley Company, originally a bicycle making firm.
At this stage, the others decided to head for Crusty's Café in Wivenhoe to debrief, but as Paul, Michelle and I were enjoying the car and bike collection and trying to pry Paul away from engines and written info is equivalent to oysters on rocks, we spent quite a bit of time there and elected to go straight home afterwards; the Crusty's crowd had probably long since departed!
Hope you all enjoyed the day. We tried to make it easy direction-following, although even I followed along on one slight miscalculation until I realised we had overshot the road. However, some of the guys were very quick to let us know – thanks guys.
Great to see some people waving to us, emus galloping along in a field somewhere …
We obeyed the speed limits at all times and even though we were held up at times by slowbies, we tried to be philosophical about it; regrouping was done at each leg of the trip and after all, it is supposed to a be fun run.
More photos of the run can be found here.