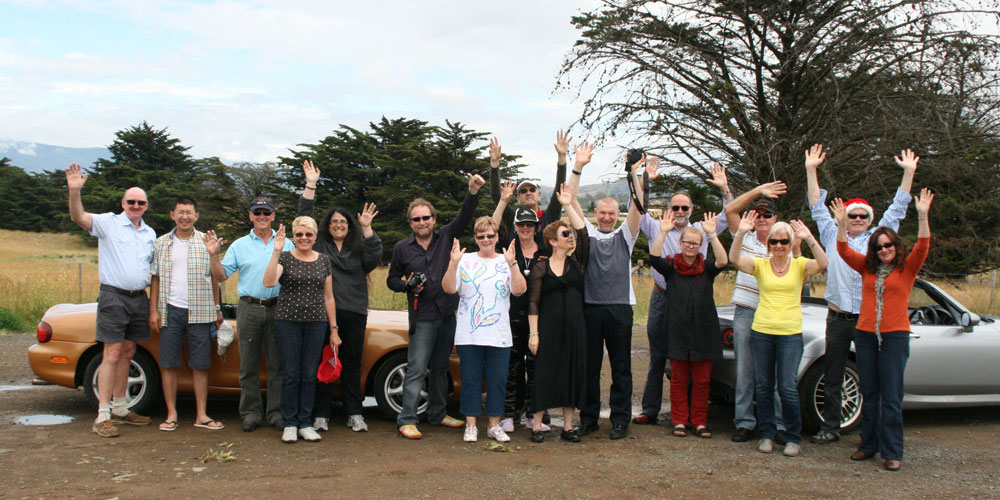 Story: John Waldock
There seems to be something about end-of-year runs that gives them a life of their own.
In the past we have had wine tastings, raffles, nice runs in the country and Christmas lunches to die for.
The planning for this year's Christmas run started modestly. We would do the same as normal: a short drive through the countryside followed by a wine tasting and a raffle, with some nice food to finish everything off.
But, then ideas began to float around.
Ian and Carla Long are dance teachers, so perhaps we could have some dancing as part of our Christmas run. Great idea, let's see if they are up for it.
Then after my birthday party the idea grew that maybe we could get the band to play as well, and make a real afternoon of the celebrations. Sure I thought, why not? Might as well do that too. We also decided to make this year's raffle a charity event, with the proceeds going to Breast Cancer Tasmania. Great idea … we'll need a few prizes for that too.
So, on to the last run of the year. We traditionally have the Christmas run on a Saturday, as we tend to have a shorter drive and make more of the celebrations afterwards. The Chapter met at the usual spot in Bellerive. The run leader hadn't factored in that it was a Saturday, and that a farmers' market had set up on the boardwalk, meaning the car park was already pretty full when he arrived (tsk tsk!).
The members, as usual, are a resourceful lot and figured it all out and it didn't take us long to get going on the drive, which was a short drive through Tea Tree and Richmond. The weather being a bit dodgy, we started off with tops up but at our first stop we all decided to brave it and feel the wind in our hair.
After our drive we ended up in Glenorchy for our dance lesson. We all tried something called the Hucklebuck and followed on with a Progressive Jive. Lots of fun, and it was a surprise to see the nervousness in the faces of the normally unflappable MX-5 drivers.
We headed off to another venue, where we sampled some nice wines and tried, mostly unsuccessfully, to guess their grape type and state or country of origin. Food and nibbles were also on offer, much appreciated after all the jumping around I'm sure.
We finished the afternoon with the band (no name as yet), made up of fellow MX-er Allan Pryer, myself, and a few friends. We played 16 songs, and the audience still asked for an encore! We also drew the raffle, which raised $122 for Breast Cancer Tasmania – a handy total going to a very worthwhile cause.
Finally, I would like to thank the following people for their efforts in helping the day being such an enjoyable one: Ian and Carla Long for organising and running the dancing, Stacey Pryer and Michelle Waldock for organising the food, and the band for putting on such an excellent show.
A great end to 2012 … and now we look forward to 2013.