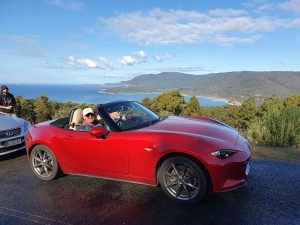 Words, photos & organiser: John Waldock
After such a big break from Chapter events it was no surprise that the Southern Tassie Chapter turned out in force for the first run since February.
We had 12 cars and 23 attendees, with others emailing to express their disappointment in being unable to attend (particularly Ian Long who badly broke his humerus and is unable to travel in a car currently for anything but a short distance).
We assembled at Cambridge Park, all socially distancing, and ready to set off on the drive.
The route was a short one, a drive down to the Tasman Peninsula (towards the direction of Port Arthur) but taking a side road which has recently been sealed which gives a new set of views and, more importantly, new corners to enjoy.
We had a short stop at Dunalley, where coffee was supped by some, and new member Warwick and new potential members Peter and Nigel were introduced. We were blessed with lovely weather – clear blue skies which enabled the braver of us to put the top down and enjoy the fresh Tassie air.
After Dunalley we enjoyed the lovely winding Tasman Highway to Eagle Hawk Neck where we stopped to look at the view of Pirates Bay and have a chat.
We didn't stay long as we were keen to get back on the road again and get to our lunch destination at Rosedale Homestead at Taranna where we enjoyed a lovely lunch and, for many, a good chance to catch up.
More photos of the run can be found here.