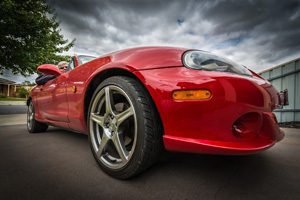 Story: Lockie Story
Well, here I am on the second run since I broke my back.
I decided that Molly needed a run and so I tidied her up, gave her a bath and some pampering and rocked up to McDonald's in Sebastapol for the start of the run. The car park was packed and the Maccas was flat out – a licence to print money. Even so, we managed to fit our 11 cars in, including a new recruit, Lucas (and, yes, someone said "Prince of Darkness") and gathered around Ian to see what we were going to do.
As he stared at the map he suddenly had an epiphany and said "Change of plans, follow me!" Cool – as he is our new "Guvna", he leads, we follow!
So off we set. Perfect weather for a run: warm but not hot, although the hills were very hazy. Drove past Sago Hill (now I know where sago comes from!). It was so nice to see some green after the various and interminable shades of brown at home. At least someone has had some rain.
Molly was burbling along nicely as we entered Buninyong, where they were having their fete. No wonder it was so quiet in downtown Ballarat – everyone was here! Cruising along we passed a dog looking for his tucker box (lost, obviously), and so many ride-on mowers and slashers that it must have been national mowing day.
We then moved on to Lal Lal, which was also having its fete. The road out of Lal Lal was so bumpy, I was glad I had exchanged Molly's seats with SE seats. We took a short break at Lal Lal Falls then went exploring the back roads around the area. Obviously there were many people who "didn't get the memo" that the MX-5 Club was out and about as there were dozens of cars coming the other way, forcing us off the road. How truly rude to disturb the MX-5s out on their jaunt! This created a lot of dust. So much for washing Molly …
We found ourselves back in Lal Lal, then headed out the other side where sections of the road had been widened and resurfaced. One of the real joys of open-top motoring is that you can enjoy the sweet scents of fresh tar, cow poo and the pleasant waft of dead roo.
We passed Lethbridge airport (I remember when they were aerodromes) [I love the smell of Avgas in the morning] and then the Happy Hens Egg Farm ("From our family to yours" … hmmmm!). Into Meredith, we settled at the Pioneer Park for lunch.
After lunch we headed over the Brisbane Ranges to Anakie and experienced some brilliant roads with a lot of steep switchbacks and climbs. We passed more and more mowers; perhaps I should have been home slashing.
At one spot some clever little chappie had reversed the chevrons on the blind corners on the Ballan-Meredith Road. Now that is really smart. I notified the council on Monday. Taking the "massage" section of Mt Egerton-Ballarat road, it was quite funny watching Tracey trying to take notes with the car jumping everywhere.
We drove through Mt Egerton (I'd never been there before) and on to Gordon where we wound up the run. Most of us stepped into the Gordon Pub and nearly gave the new owner a heart attack. He had only been there for six weeks and did not expect a crowd of thirsty MX-5ers descending on him all at once. With walls covered in history, the pub is worth a visit. An example was a picture of the Gordon Gold Mine "Above Ground" First XI and the "Below Ground" First XI. She was a big town once.
So, after a couple of quiet ones, we drifted away, fully satisfied with a brilliant day.
Thanks to Ian and Karen Bradshaw for organising so much fun. Again.