Story: Karen Bradshaw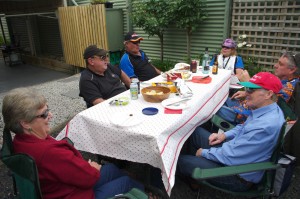 With Christmas fast approaching our end-of-year run was upon us …
We gathered at John and Noellene's in Ballarat and were promptly introduced to the newest addition to their family – a ball of fluff named Ted, who instantly stole everyone's heart.
Neil came with his car dressed up like Rudolph the red-nosed reindeer. We headed off at 10.30am with 18 cars including one from Bendigo and three from Central Chapter, heading for the M8 highway, then on to the Western Highway exiting towards Lexton via Learmonth and Waubra – my the wind towers are imposing.
From Lexton we headed left to Beaufort. When we arrived at Beaufort for morning tea, there were lots of giggles coming from the leader's car – apparently our leader never read his run notes! We were supposed to turn right at Lexton and head to Beaufort the long way round! Never mind, getting to Beaufort earlier meant we had more time to chat and natter.
On leaving Beaufort Allan and Dawn almost left their picnic bag behind – Dawn was busy on the phone! Then I spotted an abandoned camera on the park bench – what sacrilege! We gave the camera a ride back to Ballarat to be reunited with its chastised owner – shame on you Neil!
We headed back to Ballarat via Mt Buninyong – the run notes didn't seem quite right… when we got to the roundabout in Buninyong saying left, instead we went straight ahead – no wonder our leader has navigational trouble!
We arrived back at the Gleesons' for our BBQ lunch. Thank you, Noellene, for all the "little Christmas extras" – they made the day even more enjoyable. We had a terrific afternoon eating, talking and joking! So nice to be able to sit and catch up without having to rush off to continue on a run.
The Gleesons' two little dogs lapped up all of the attention given to them, with Ted stealing the show! They were very exhausted little doggies by the end of the day.
Thank you to John and Noellene for organising a great morning run and for their hospitality for the day.