2011-12 Championship | Round 1
Phillip Island Sprints ~ 30 June, 2012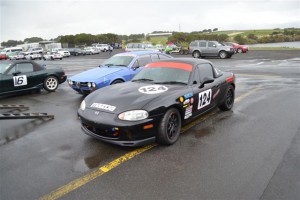 We had so much rain in Melbourne over the past few weeks leading up to our first Club Sprint of the new MX-5 Club Motor Sport Championship – it would definitely be all rained out by Saturday for Phillip Island, giving us a pleasant dry day to enjoy and have some fun.
Or would it?
I loaded the much-loved NB on to the trailer in the rain on Friday afternoon with a very positive feeling that when I woke up at 5am on Saturday, to make the trip to the Island, it would be a fine, dry winter's day, cold but pleasant.
And I was right. The alarm went off, I had a look out of the window: stars in the sky, no rain and a slight wind.
Phillip Island, here we come!
I arrived at the track at 7.30am on a cold but dry, pleasantly sunny day to find a very full pit area. So full that I had to squeeze my way in between two other vehicles so as not to be too far away from everyone. This was due to a massive entry of around 135, with 41 MX-5s, five of those coming from NSW for the annual MX-5 Club interstate challenge.
Everyone was happy to be together again with the usual banter between drivers, friends and helpers, and all saying how lucky we are with the weather; only a brief shower I was told and, if anything, according to the radar the rain could even pass us by.
Entries out of the way, drivers' briefing complete and away we went. Due to the large field there were five full-run groups, each getting a 10-minute practice to start the day's proceedings.
The track was in really good condition which would make for some quick times and everyone was very eager to get going for their timed runs.
With a slight wind down the straight it was ideal for some fast laps and a good day for some fun in the sun. Out went Run Group One, then Two, then Three, then Four, then Five.
And as Run Group Five takes off for their first timed session it all turns to … RAIN!
And more rain … and, yes, even a bit of hail just to spice things up. Then more rain for the better part of the day, and the end of any more dry runs.
Commiserations for those in Run Group Five who did not manage to post a dry run time. Not the best way to start and end a day. (If you detect a bit of self-pity in the above … yes, I was in Run Group Five!)
Well done to those who managed some quick times in their respective classes – Stephen Downes, Noel Heritage, Robert Hart, David Wilken, Russell Garner and Owen Boak. Also well done to Dean Monik and Brendan Beavis for breaking into the sub-two minute lap at the Island. Good going indeed.
However, that's not to say the weather spoiled the fun! Ask Sam Gumina what fun is. I heard it is doing four pirouettes down the straight and then taking out a brake marker to end it all off. Not to be outdone, Randy (I believe) did something very similar. Many spins by many others including yours truly added to the day's entertainment.
The annual NSW/Victoria interstate challenge added some interest to the day's proceedings and in the end went to Victoria. Thank you to those drivers who accomplished this for us.
As always, even with the adverse weather conditions, there is no better way to spend the day doing what we all come together to do with a common interest and enthusiasm shared by a great bunch of people.
See you all at Winton.