Racecraft Training & 2011-12 Championship | Round 7
Training – Winton ~ 3 March, 2012 | Winton Sprints ~ 4 March, 2012
Story: Gary Prescott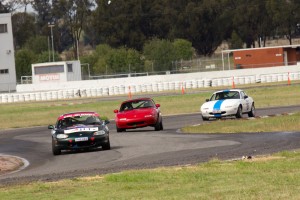 With floods engulfing northern Victoria, Saturday was looking ominous as rain fell all Friday night in Benalla.
Arrival at Winton on Saturday morning for our training saw a very wet track and very soft looking grass around it.
Regardless, those of us doing the race-craft training met up with our instructors and practiced our race lines and low grip driving techniques. A dry line appeared mid-morning but soon disappeared with rain increasing in the afternoon.
The driver training participants had a perfect day for experiencing braking on the limit, slaloms and other car control situations in wet conditions. One student had the advantage of an MX-5 and motorkhana experience, employing the handbrake as a driving aid to get around the slaloms!
A couple of sessions on the main track gave many young students their first taste of track work.
The first day finished with a big crowd at the North Eastern Hotel in Benalla that evening for a great meal and good conversation, but it was early nights all around in preparation for the next day's early start.
Sunday brought clearer conditions but the track was still damp for the first few sessions.
The Group One cars had the challenge of getting their extra power down but they helped by drying the track for the rest of us! The lack of grip off the racing line saw quite a few spins off the sweeper and some very muddy cars as a result! The recovery vehicles had a bit of work to do with MX-5s sunk to the rails.
Group Three comprised mainly NAs and NBs and saw healthy competition once the track completely dried. A good little stoush developed when the two Downes, Fitzy, Max and myself found ourselves on the same bit of track – loads of fun but not so good for getting PB lap times. I discovered that I am slow when being chased and faster when chasing.
I had to keep reminding myself of Owen's advice from the day before about keeping it smooth … smooth = fast.
As usual the MX-5s outlasted many of the other makes, to keep racing until the last session.
Then, the only thing left was to face the biggest challenge of the weekend: negotiating the other drivers on the Hume Highway on the trip home.
Thanks to the organisers and officials for a great weekend.